"Good for Your Skin" Bundle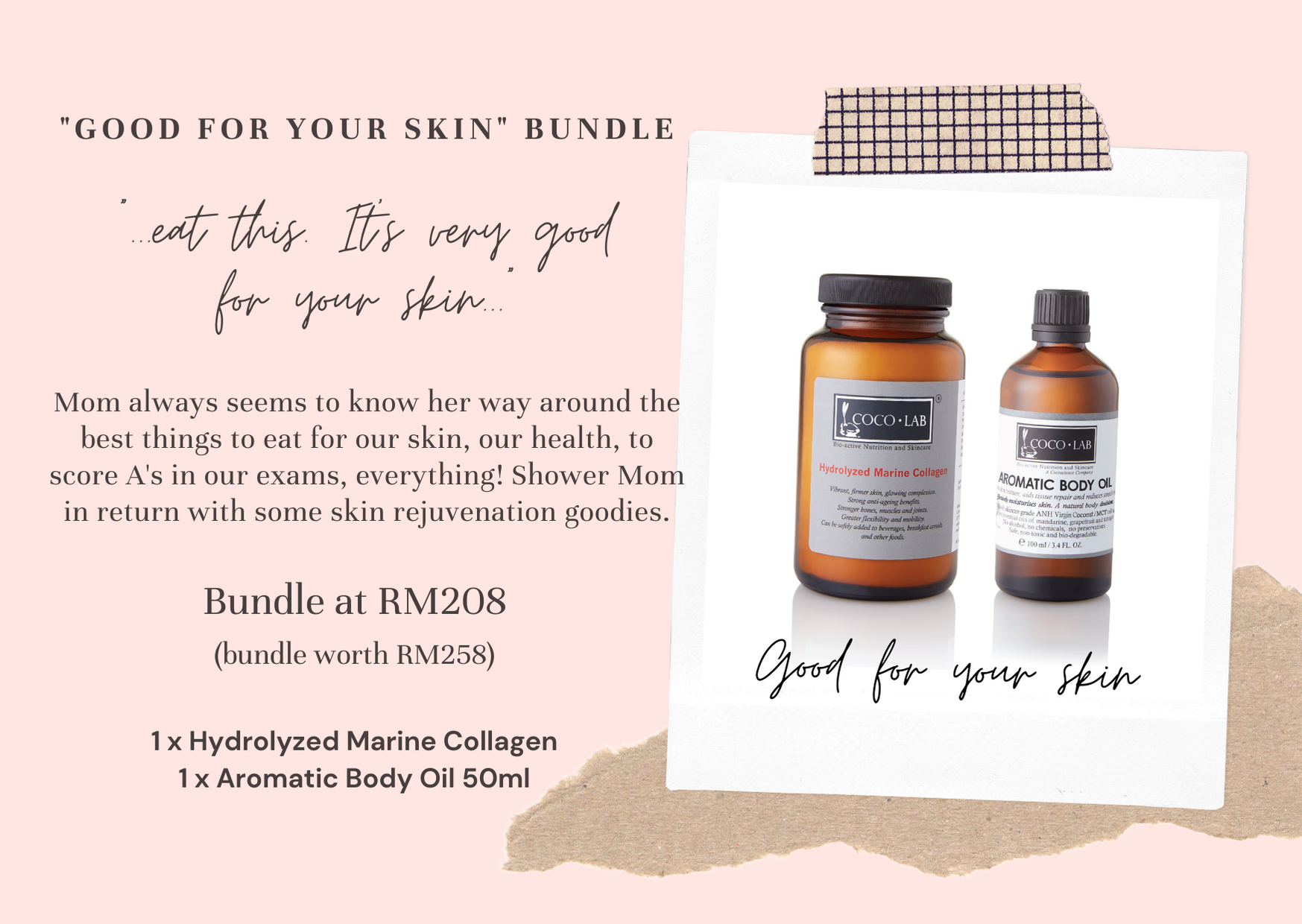 Time for Mom to indulge in these skin-friendly must-haves. She's always looking out for the best for you, it's time we do the same too.

1 x Hydrolyzed Marine Collagen
1 x Aromatic Body Oil 50ml
Bundle price: RM208
Normal price: RM258
(save RM50)
*inclusive of 10% SST
HYDROLYZED MARINE COLLAGEN
COCOLAB's Hydrolyzed Marine Collagen is a quality blend of Type 1 collagen extracted from fish. It is easily absorbed and has a high bio-availability, delivering collagen to sites that are deficient. It is preferentially delivered to our skin and bones where it restores and repairs damaged structures, improving strength and integrity. Proven to be more effective than other types of collagen, the Hydrolyzed Marine Collagen is absorbed and utilized better by cells in the body with less wastage.
WHAT IS COLLAGEN?
Collagen is the most abundant protein found in the human body, making up around 30% of the total protein. It is found in bones, muscles, skin and tendons, where it forms a scaffold to provide strength and structure. Collagen is the "glue" that holds stuff together, without which, will start falling apart e.g. saggy skin and weakening of cartilage in joints.
Collagen production naturally decreases as we age. This can lead to reduced integrity of tissue structure. The skin thins and becomes wrinkled, bones can lose density, cartilage starts to weaken, joints lose its mobility, decreased flexibility and signs of ageing start to set in.
Collagen supplementation will continually replenish collagen levels required by our body to maintain its form and function. It is used to combat the signs of ageing and restore youthfulness to our body.
RECOMMENDED FOR:

Popularly taken by those looking to improving skin health and elasticity. Ageing skin in need of firming up and skin revitalization will benefit from this product. It is also recommended for those concerned in maintaining youthful-looking skin. Supplementation will also lead to improved skeletal health.

Supplement your collagen intake with a good diet and a healthy lifestyle for faster results. It is highly recommended that adults begin including collagen in their daily diet as early as possible as collagen production reserves begin to deplete with age.
Suitable for pregnant women in normal dosages.
BENEFITS:
Increases skin elasticity and firmness
Prevents and reduces fine lines and wrinkles
Anti-ageing benefits
More supple and hydrated skin
Improves bone density
Improves flexibility and mobility
Prevents brittle or damaged nails
Thickens fine hair and slows down hair loss
INGREDIENTS: Pure Hydrolyzed Fish Collagen

DIRECTIONS FOR USE:
Add 5gm-10gm a day of Hydrolyzed Marine Collagen into your everyday drink, shakes, coffee, beverage, food, etc, hot or cold! This odourless and taste-free product will not alter the taste of your beverages or food. It's an easy way to kick-start a busy day.
Add also to oats and dips as a healthier, skin-tastic alternative!
* Keep in dry place. Consume powder within 3 months after opening to avoid moisture absorption
AROMATIC BODY OIL
Say hello to smooth and supple skin!

A favourite in COCOLAB, our Aromatic Body Oil is light on the skin but strong in the moisturising department. The Aromatic Body Oil prevents excessive water loss in skin, a major cause of skin dryness and dullness. It is formulated to be absorbed quickly into the skin but not lose any moisturising efficacy, promoting a natural healthy glow on skin.
Use it as a leave-on massage oil or simply as a body moisturiser to prevent dry flaky skin. Its anti-bacterial, anti-virus and anti-protozoal properties give it a protective edge over normal body oils. Aids in tissue repair and reduces stretch marks. The Aromatic Body Oil is a natural body deodoriser without the danger of synthetic fragrances. This light formulation penetrates deep into the skin layers and is absorbed quickly.
Considering smooth and velvety skin? Try applying the Aromatic Body Oil on damp skin and leave it on. Your skin stays moisturised for longer and prevents any excess water loss.

RECOMMENDED FOR:
Anybody who wants healthy looking skin. Suitable for babies because it is natural safe and non toxic. Suitable for adults and elderly folks whose skin needs extra moisturising.
To subdue mild rashes, apply when necessary.

BENEFITS:
Effectively moisturises skin

Protects skin from fungus and bacterial growth

Relieves mild rashes

Relieves eczema & psoriasis skin flares

Promotes smooth & supple skin

Reduces stretch marks

Prevents excessive water loss from skin

Natural body deodorant

Easy to apply leave-on massage oil

Fast-absorbing light-weight formulation

Suitable under make-up

Does not clog pores



INGREDIENTS: Contains ANH-VCO/MCT Oil and our signature invigorating blend of pure essential oils of mandarine, grapefruit and tarragon.
Bottle comes in 50mL

DIRECTIONS FOR USE:
Apply onto skin and gently massage it into skin. Suitable for day or night use.

STORAGE INSTRUCTIONS:
Keep in a cool and dry place in an upright position. Do not place it under direct heat.
At COCOLAB, we believe in educating our valuable customers. Click on the research articles for more info.


Customer comments
| Author/Date | Rating | Comment |
| --- | --- | --- |