[Stay Protected] MCT Oil C8 Liquid Sachet (30s) + Aromatherapy Body Soap

Stay Protected with our Immunity + Hygiene Booster combo. Fortify your immunity and your well-being with our best-selling MCT C8 Oil. Keep bacteria at bay with our Aromatherapy Body Soaps to create the perfect immunity and hygiene selections for you and your loved ones.

1 x MCT C8 Oil Sachet (30s)
1 x Aromatherapy Body Soap (130gm)
Combo: RM151.30
Normal price: RM178
(save RM26.70)
*inclusive of 10% SST
MCT C8 OIL
100% Pure C8! Now you can Keto-on-the-Go with our travel-friendly sachets!
Double your keto levels with our Pure C8 (Caprylic Triglycerides) supplement. COCOLAB's MCT Oil C8 is a proven solution to elevating blood plasma ketone levels compared to MCT Oil C8/C10 combo. When taken in isolation, C8 is the main contributor to elevating ketone levels, leading to a more effective weight loss diet.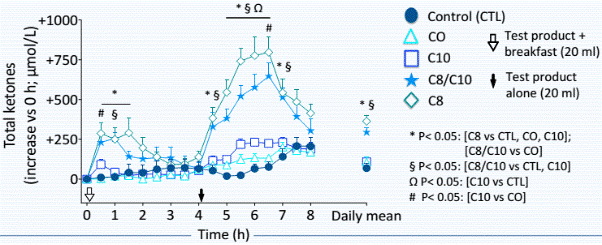 This is a healthy saturated fat essential for ketosis and is easily digested & absorbed directly into your liver. When broken down, this will release readily usable ketone energy. Caprylic acid is also a potent anti-fungal and combats fungal infections e.g. Candida and athlete's foot. Mixes well into salads, juices and oats.
Accelerate your ketosis plan with the best MCT, the MCT Oil C8, today!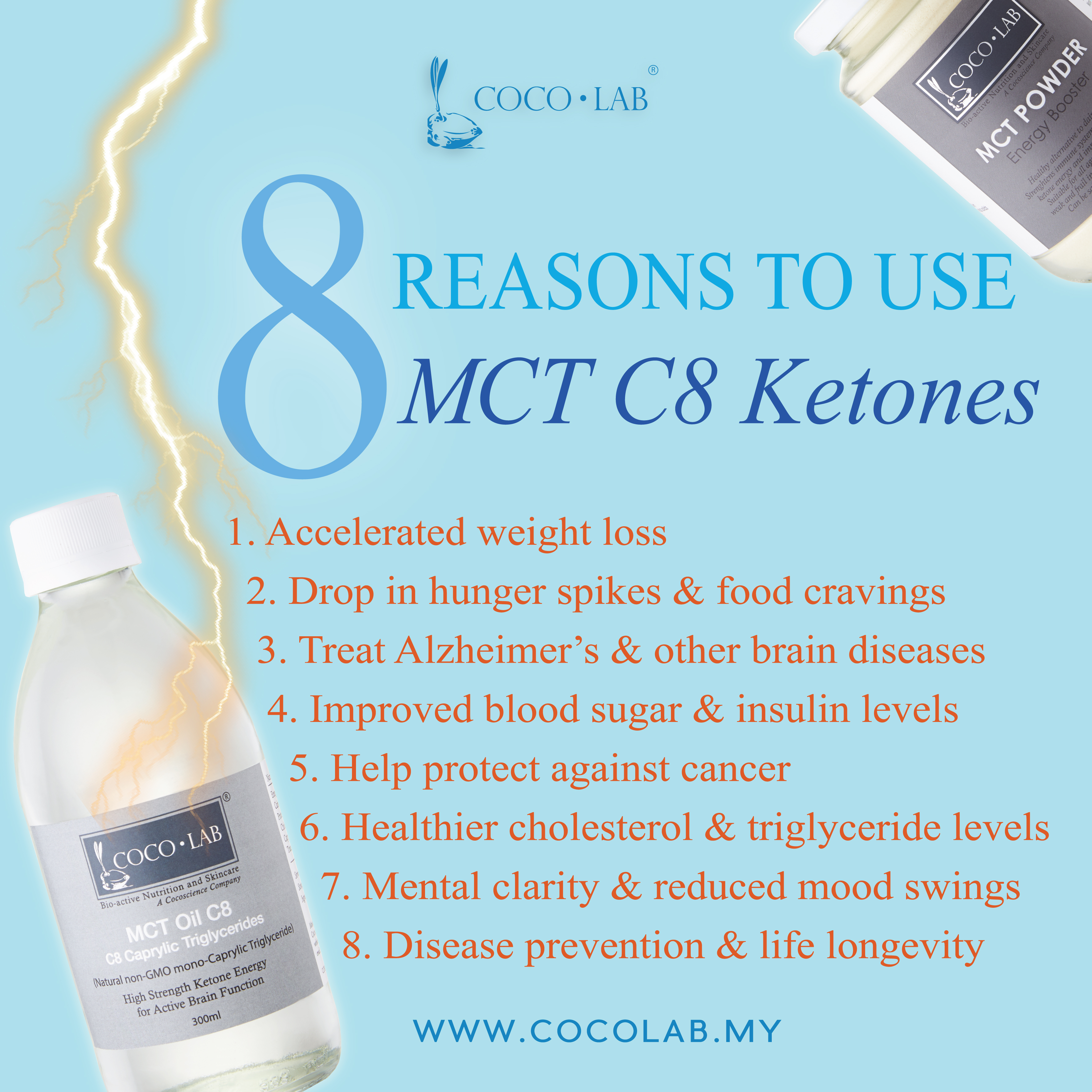 RECOMMENDED FOR:
Highly recommended for individuals on ketogenic diet (keto diet). For those who are more sensitive towards taste, this taste-free product mixes well into whatever you put it into without altering the taste of the food. Alternatively it can be consumed on its own. The MCT Oil C8 is packed with double the ketone energy. It also boosts weight loss. In addition, people suffering from fungal infections e.g. Candida yeast infection will find this beneficial in combating fungal infections. Suitable for all ages.
BENEFITS:
Double instant ketone energy
Increased basal metabolic rate
Reduces hunger cravings
Anti-bacterial, anti-viral & anti-fungal properties
Fights candida yeast infections
Helps treat digestive disorders
Alleviates fatigue
Improves focus and concentration
Reduces risk for antibiotic resistance
Improves heart health
Boosts healthy cholesterol levels


Travel-friendly sachets, perfect for quick packing for travelling or working. (clear / transparent sachets)

More on our blog:

INGREDIENTS: Caprylic Triglycerides C8
NOTE: This oil will remain a liquid down to zero degree centigrade.
DOSAGE INSTRUCTIONS:
The recommended dosage is 2 sachets (2 x 10ml) daily in the morning. Take it 30 minutes before your meal if you are on a weight loss diet.

For better results, take on empty stomach and in split dosages throughout the day (1 sachet x 3).
For those looking for general health maintenance, you may take it anytime (before/after meal). You can also incorporate our MCT Oil C8 in salads, juices, coffee, oats or baking recipes according to your preference.
*each sachet contains 10ml of MCT Oil C8 Liquid.
AROMATHERAPY BODY SOAP
COCOLAB's premium all-natural hand made soaps are totally safe, non-toxic and biodegradable, making it suitable for all skin types. It is made using a blend of high grade virgin coconut oil and pure essential oils. These long lasting soaps whip up a creamy luxurious lather and works to keep skin clean without stripping it of its natural moisture.
Virgin Coconut Oil protects, moisturizes and heals the skin. With its strong anti‐viral, anti‐fungal and anti‐bacterial properties, this super ingredients keeps bacteria, germs and viruses at bay whilst leaving skin well-nourished. COCOLAB's Aromatherapy Body Soaps are SLS‐free and contains no synthetic colour, fragrance, preservative, animal extract and alcohol.
Suitable for all skin types.

RECOMMENDED FOR:
Those looking for a healthier and nourishing alternative to body care. It is gentle on the skin and does not strip off the skin's natural moisture. Long term use will reduce flaky and dry skin.

INGREDIENTS: Pure Vegetable Glycerine Base, ANH-Virgin Coconut Oil & Pure Plant Essential Oils.
Weight: 130gm

DIRECTIONS FOR USE:
Lather well with water and cleanse skin. Rinse off with water.

STORAGE INSTRUCTIONS:
Keep soap dry when not in use. Do not leave it soaking in water.
RECOMMENDED ACCESSORY:
- COCOLAB Wooden Soap Dish
Best MCT Oil Malaysia

Customer comments
| Author/Date | Rating | Comment |
| --- | --- | --- |