[Stay Protected] ANH - Virgin Coconut Oil + Super Vitamin E Liquid (380ml Bottle) + Aromatherapy Body Soap

Stay Protected with our Immunity + Hygiene Booster combo. Fortify your immunity and your well-being with our best-selling ANH-VCO + Super Vitamin E Liquid. Keep bacteria and infections at bay with our Aromatherapy Body Soaps. Curate the perfect immunity and hygiene selections for you and your loved ones.

1 x ANH-VCO + Super Vitamin E Liquid (380ml)
1 x Aromatherapy Body Soap (130gm)
Normal price: RM188.00
Combo: RM159.80
(save RM28.20)
*inclusive of 10% SST
ANH-VIRGIN COCONUT OIL + SUPER VITAMIN E
The ANH-VCO enhanced with Super Vitamin E is a potent combination of 2 superfoods to help you combat modern-day lifestyle diseases. Tocotrienol complex is known for its super anti-oxidant properties and is 40-60 times more potent than the more commonly found Tocopherol.
Free radical damage has been linked to the development of cancer, premature aging and complications from degenerative diseases. Tocotrienol's powerful anti-oxidant properties combats free radicals that can damage body cells leading to a host of diseases and complications. Tocotrienol is recognised for its ability to improve cardiovascular/heart health, promote neurological/brain health, balance cholesterol ratios and improve skin health.
RECOMMENDED FOR:
This formulation is recommended as a dietary supplement to help improve overall health including the heart, brain, liver and skin health, strengthen the immune system, balance cholesterol levels and defends the body against free radical damage. Tocotrienol is beneficial in the prevention and control for persons with Parkinson's, Alzheimer's and other dementias.

BENEFITS:
The ANH-VCO enhanced with Super Vitamin E Liquid harnesses the full benefits of our Absolute No Heat Virgin Coconut Oil for maximum bioavailability. Super Vitamin E when consumed hosts an array of health benefits for the body:
Tocotrienol:
For body
Improves heart health
Balances cholesterol levels
Promotes brain health
For skin
Anti-aging
Protection against UV damage
Replenishes antioxidant levels
Promotes cellular regeneration
Reduces scars, pigmentation and fine lines
Moisturises and improves skin elasticity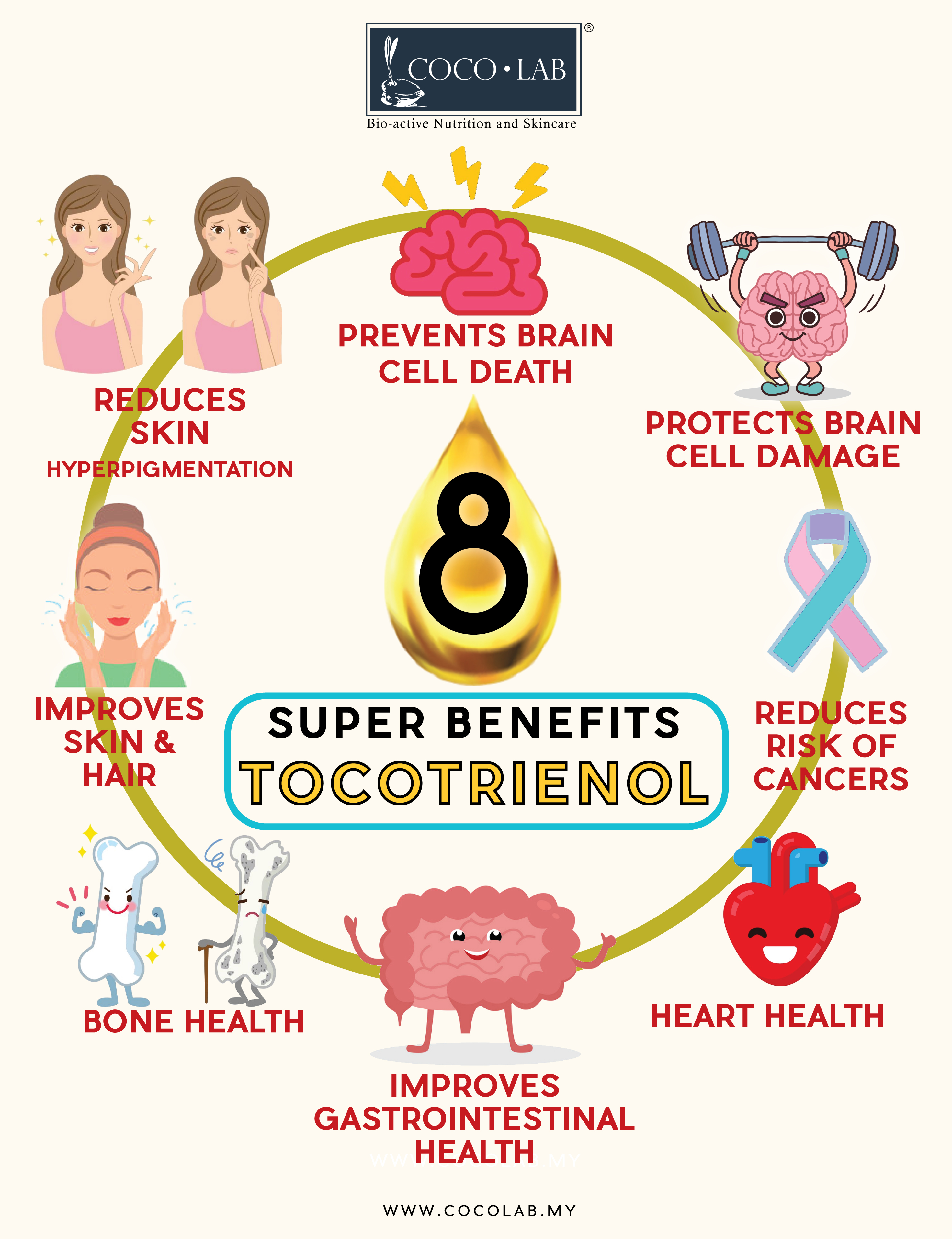 More on our blog: Tocotrienols - The Vitamin E That Packs a Powerful Punch of Antioxidants
Click here for more information: Coconut Oil - Dr. Mercola / Health Benefits of Virgin Coconut Oil / Health Benefits of Super Vitamin E Tocotrienols / Softgel leaflet / Tocotrienols Natural Vitamin E Leaflet (English)
Chinese Articles中国篇: Coconut Oil - Dr. Mercola 椰子油 - Mercola 医生 / Virgin Coconut Oil 椰子油 / Super Vitamin E Tocotrienols 超级维生素E Tocotrienols / 生育三烯酚天然维生素E 传单小册子(中文)

INGREDIENTS: 100% Premium Absolute No Heat Virgin Coconut Oil (ANH-VCO) & Natural Full Spectrum Bioactive Plant Tocotrienol/Tocopherol Complex (Vitamin E is listed by the US FDA as GRAS Nutrient/Dietary Supplement).
NOTE: Certain packagings are meant for Tropical countries. Where ambient temperature is below 24°C / 75°F (eg. USA, Europe, China, Australia, Korea, Japan) our ANH-VCO will solidify into a butter-like state.
We suggest using the wide mouth jar packaging as it allows the product to be scooped out with a spoon.
Alternatively, you can also purchase the bottle packaging. Simply put the bottle in a warm water bath to melt it if solidified.
Please click on Size icon above to select your preference.


DIRECTIONS FOR USE:
The recommended dosage is 2 tablespoons daily in the morning. Take it 30 minutes before your meal if you are on a weight loss diet. For those looking for general health maintenance, you may take it anytime (before/after meal). You can also incorporate our ANH-VCO enhanced with Vitamin E in salads, juices, oats or baking recipes according to your preference.

ANH-VCO + Super Vitamin E liquid is co-branded with *EVNol (full spectrum palm tocotrienols/tocopherol complex)
*EVNOL is a registered trademark of ExcelVite Sendirian Berhad and protected by US Patent No: 5,157,132. Palm Oil-derived Vitamin E is classified as GRAS by the US FDA (GRAS Notice No. GRN 000307).
Visit www.tocotrienol.org for more information on tocotrienol.

ANH-VCO is classified as a food under the Food Act 1983 and Food Regulations Act 1985 in Malaysia and as such no health claims are allowed under the Acts. If there would be health claims, then there is a necessity to study VCO under a new nutraceutical section as VCO straddles between nutrition and pharmaceutical. It performs both functions. For now, our products are labeled in accordance with the provisions of current laws applicable here.
If you are interested to find out more about the health benefits of VCO, why not look into our "Research Articles" as a starting point, or try one today to experience the extraordinary benefits of ANH-VCO.
Some people take a longer time to experience the benefits. Once you start taking VCO, allow it time to work. It will be a mistake to abandon it when you do not immediately see some results. VCO will be working inside your body trying to correct problems from your years of neglect.
Before VCO can produce benefits, it must first clean your body of toxins. You will over a longer term experience better health.
AROMATHERAPY BODY SOAP
COCOLAB's premium all-natural hand made soaps are totally safe, non-toxic and biodegradable, making it suitable for all skin types. It is made using a blend of high grade virgin coconut oil and pure essential oils. These long lasting soaps whip up a creamy luxurious lather and works to keep skin clean without stripping it of its natural moisture.
Virgin Coconut Oil protects, moisturizes and heals the skin. With its strong anti‐viral, anti‐fungal and anti‐bacterial properties, this super ingredients keeps bacteria, germs and viruses at bay whilst leaving skin well-nourished. COCOLAB's Aromatherapy Body Soaps are SLS‐free and contains no synthetic colour, fragrance, preservative, animal extract and alcohol.
Suitable for all skin types.

RECOMMENDED FOR:
Those looking for a healthier and nourishing alternative to body care. It is gentle on the skin and does not strip off the skin's natural moisture. Long term use will reduce flaky and dry skin.

INGREDIENTS: Pure Vegetable Glycerine Base, ANH-Virgin Coconut Oil & Pure Plant Essential Oils.
Weight: 130gm

DIRECTIONS FOR USE:
Lather well with water and cleanse skin. Rinse off with water.

STORAGE INSTRUCTIONS:
Keep soap dry when not in use. Do not leave it soaking in water.
RECOMMENDED ACCESSORY:
- COCOLAB Wooden Soap Dish

Customer comments
| Author/Date | Rating | Comment |
| --- | --- | --- |