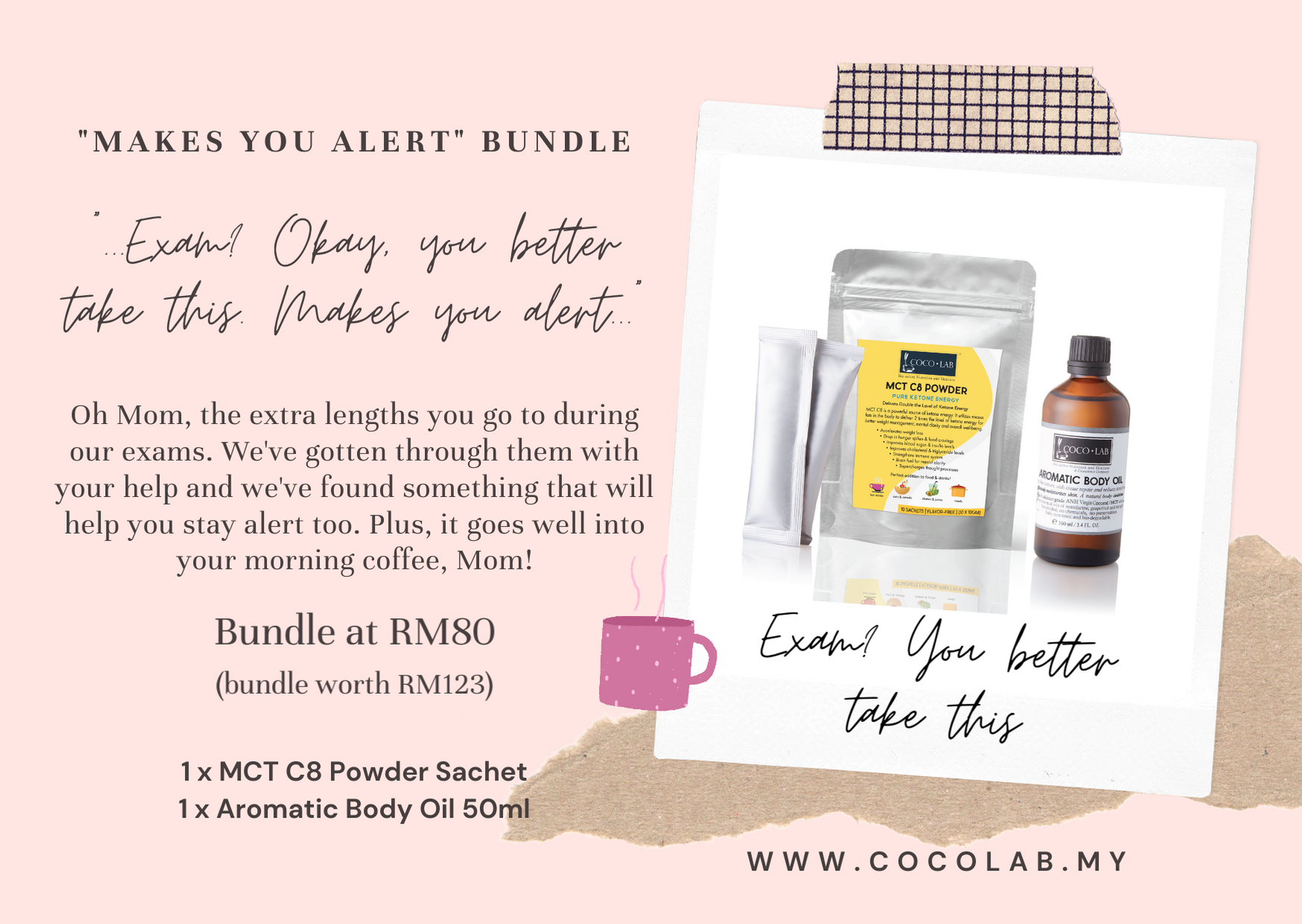 Let Mom reenergize and revitalise with these nutrition and skincare favourites. The MCT C8 Powder promises to power your superwoman whilst the Aromatic Body Oil gives her skin all day moisture.

1 x MCT C8 Powder Sachet
1 x Aromatic Body Oil 50ml
Bundle price: RM80
Normal price: RM123
(save RM43)
*inclusive of 10% SST
MCT C8 POWDER SACHET
Now in Vegan-Friendly Powder Form!]
100% Pure C8! Now you can Keto-on-the-Go with our travel-friendly sachets!
If you're a fan of powdered solutions, this is for you!
Double your keto levels with our Pure C8 (Caprylic Triglycerides) supplement. Made from pure MCT Oil C8, COCOLAB's MCT C8 Powder is a proven solution to elevating blood plasma ketone levels compared to MCT Oil C8/C10 combo. When taken in isolation, C8 is the main contributor to elevating ketone levels, leading to a more effective weight loss diet.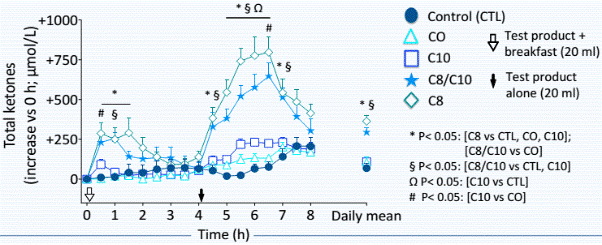 This is a healthy saturated fat essential for ketosis and is easily digested & absorbed directly into your liver. When broken down, this will release readily usable ketone energy. Caprylic acid is also a potent anti-fungal and combats fungal infections e.g. Candida and athlete's foot. Mixes well into salads, juices and oats.
Accelerate your ketosis plan with the best MCT, the MCT C8 Powder, today!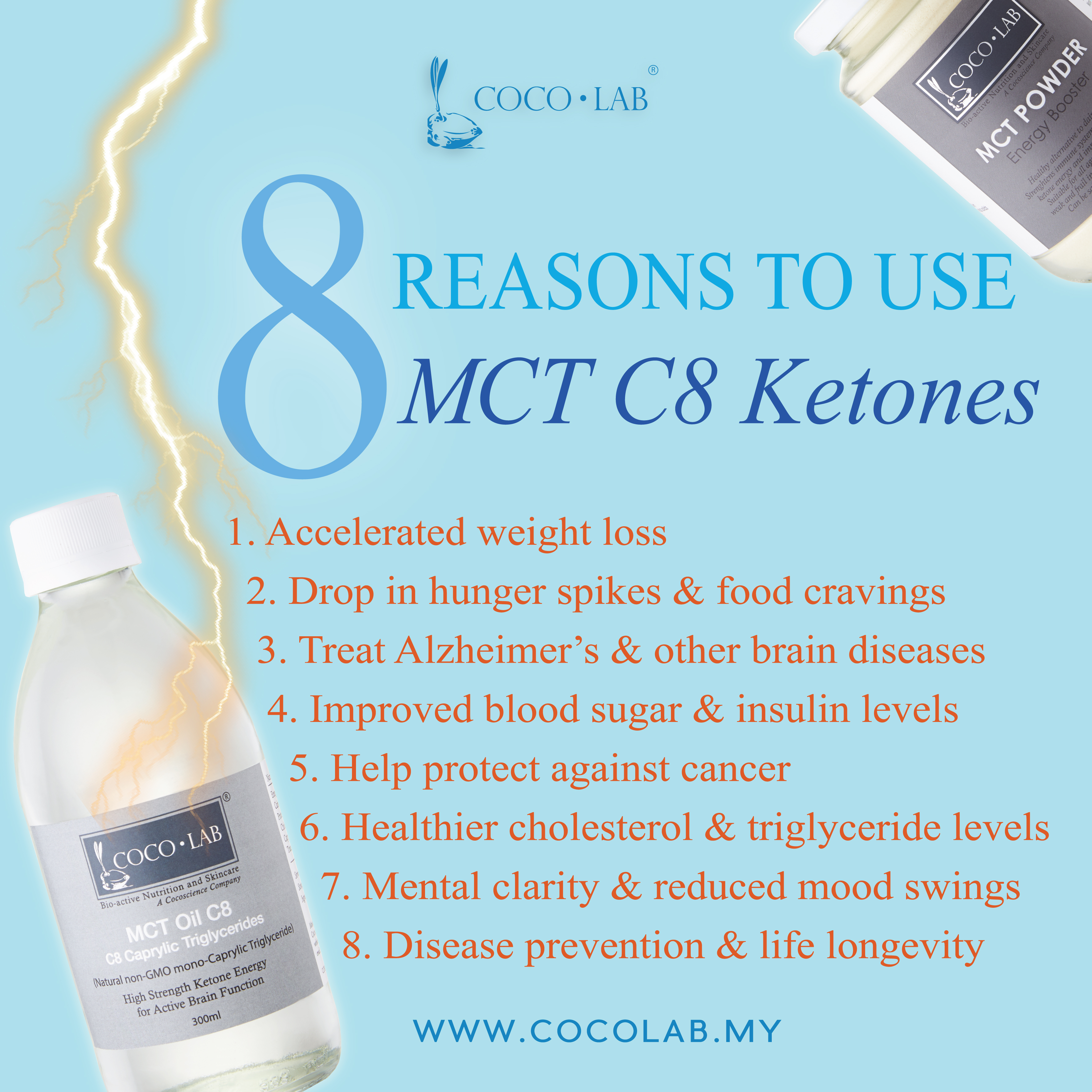 RECOMMENDED FOR:
Highly recommended for individuals on ketogenic diet (keto diet). For those who are more sensitive towards taste, this taste-free product mixes well into whatever you put it into without altering the taste of the food. Alternatively it can be consumed on its own. The MCT C8 Powder is packed with double the ketone energy. It also boosts weight loss. MCT C8 Powder is also a perfect addition to coffees or drinks to supercharge thought processes. Suitable for vegan diets.
BENEFITS:
Double instant ketone energy
Increased basal metabolic rate
Reduces hunger cravings
Keeps you feeling full for longer
Anti-bacterial, anti-viral & anti-fungal properties
Fights candida yeast infections
Helps treat digestive disorders
Alleviates fatigue
Improves focus and concentration
Brain fuel for mental clarity
Strengthens immune system
Reduces risk for antibiotic resistance
Improves heart health
Boosts healthy cholesterol levels


Travel-friendly sachets, perfect for quick packing for travelling or working
High solubility in water

More on our blog:

INGREDIENTS: Caprylic Triglycerides C8, maltodextrin, modified starch, free flowing agent, emulsifier, stabiliser
DOSAGE INSTRUCTIONS:
Add 1-2 sachets of MCT C8 Powder into beverage or meals. Stir product in. Take it 30 minutes before your meal if you are on a weight loss diet.

For better results, take on empty stomach and in split dosages throughout the day (1 sachet x 3).
For those looking for general health maintenance, you may take it anytime (before/after meal). You can also incorporate our MCT C8 Powder in beverages, juices, coffee, oats or cooking recipes according to your preference.
*each packet contains 10 sachets
**each sachet contains 10gm of MCT C8 Powder.

AROMATIC BODY OIL
Say hello to smooth and supple skin!

A favourite in COCOLAB, our Aromatic Body Oil is light on the skin but strong in the moisturising department. The Aromatic Body Oil prevents excessive water loss in skin, a major cause of skin dryness and dullness. It is formulated to be absorbed quickly into the skin but not lose any moisturising efficacy, promoting a natural healthy glow on skin.
Use it as a leave-on massage oil or simply as a body moisturiser to prevent dry flaky skin. Its anti-bacterial, anti-virus and anti-protozoal properties give it a protective edge over normal body oils. Aids in tissue repair and reduces stretch marks. The Aromatic Body Oil is a natural body deodoriser without the danger of synthetic fragrances. This light formulation penetrates deep into the skin layers and is absorbed quickly.
Considering smooth and velvety skin? Try applying the Aromatic Body Oil on damp skin and leave it on. Your skin stays moisturised for longer and prevents any excess water loss.

RECOMMENDED FOR:
Anybody who wants healthy looking skin. Suitable for babies because it is natural safe and non toxic. Suitable for adults and elderly folks whose skin needs extra moisturising.
To subdue mild rashes, apply when necessary.

BENEFITS:
Effectively moisturises skin

Protects skin from fungus and bacterial growth

Relieves mild rashes

Relieves eczema & psoriasis skin flares

Promotes smooth & supple skin

Reduces stretch marks

Prevents excessive water loss from skin

Natural body deodorant

Easy to apply leave-on massage oil

Fast-absorbing light-weight formulation

Suitable under make-up

Does not clog pores



INGREDIENTS: Contains ANH-VCO/MCT Oil and our signature invigorating blend of pure essential oils of mandarine, grapefruit and tarragon.
Bottle comes in 50mL

DIRECTIONS FOR USE:
Apply onto skin and gently massage it into skin. Suitable for day or night use.

STORAGE INSTRUCTIONS:
Keep in a cool and dry place in an upright position. Do not place it under direct heat.
At COCOLAB, we believe in educating our valuable customers. Click on the research articles for more info.


Customer comments
| Author/Date | Rating | Comment |
| --- | --- | --- |