Rejuvenate Skin & Energy Bundle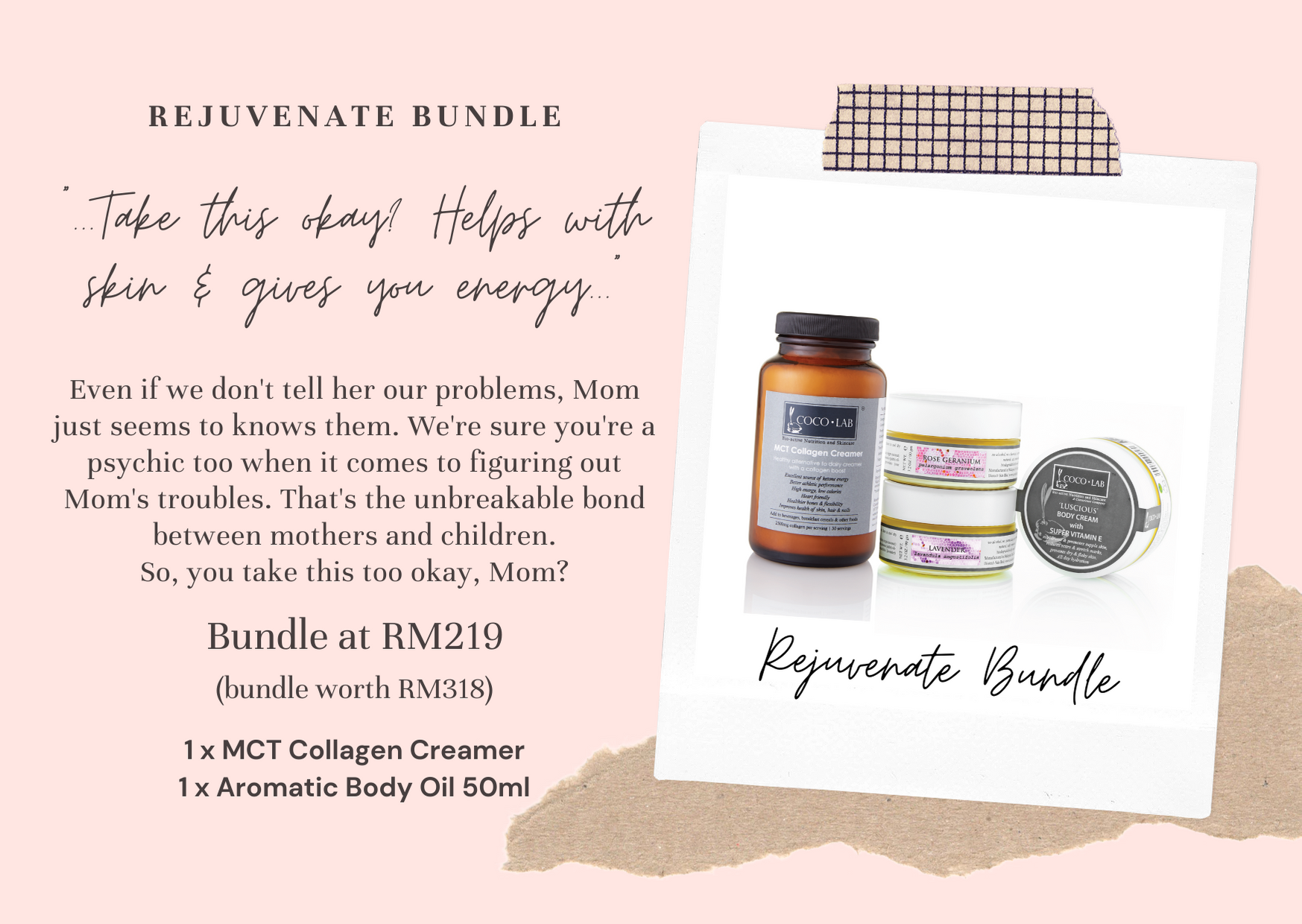 Time for Mom to indulge in these skin-friendly and energy-boosting must-haves. She's always looking out for the best for you, it's time we do the same too.

1 x MCT Collagen Creamer
1 x Luscious Body Cream (scent of choice)
Bundle price: RM219
Normal price: RM318
(save RM99)
*inclusive of 10% SST
MCT COLLAGEN CREAMER
MCT Collagen Creamer harnesses dietary and health benefits of both Medium Chain Triglycerides (MCT) Energy Booster Powder and Hydrolyzed Marine Collagen. This health supplement provides a light creamy taste to your everyday drinks or oats.

COCOLAB's Hydrolyzed Marine Collagen is a high quality Type 1 collagen extracted from fish. It is easily absorbed and has a high bio-availability, delivering collagen to sites that are deficient. It is effectively delivered to our skin and bones where it restores and repairs damaged structures, improving strength and integrity.
Our MCT (Medium Chain Triglyceride) Energy Booster Powder provides instant ketone energy, an alternative to glucose energy, giving better mental focus and a boost in energy. It can also help to increase the body's metabolism rate whilst promoting better immunity levels.
MCT Collagen Creamer can be used as a healthy creamer in beverages to incorporate collagen into diets as well as boost energy levels. COCOLAB's MCT Energy Booster Powder contains beneficial Caprylic (C8) & Capric acid (C10) which are readily absorbed and metabolised. COCOLAB's MCT Energy Booster Powder contains no harmful hydrogenated fats and is trans-fat free.

WHAT IS COLLAGEN?
Collagen is the most abundant protein found in the human body, making up around 30% of the total protein. It is found in bones, muscles, skin and tendons, where it forms a scaffold to provide strength and structure. Collagen is the "glue" that holds stuff together, without which, things start falling apart e.g. saggy skin and weakening of cartilage in joints.
Collagen production naturally decreases as we age. This can lead to reduced integrity of tissue structure. The skin thins and becomes wrinkled, bones lose density, cartilage starts to weaken, joints lose mobility, decreased flexibility and signs of ageing start setting in.
Collagen supplementation will continually replenish collagen levels required by our body to maintain its form and function. It is used to combat the signs of ageing and restore youthfulness to our body.
RECOMMENDED FOR:
Popularly taken by those looking to improve skin health and elasticity, with an energy boost for the body and brain. Ageing skin in need of firming up and skin revitalization will benefit from this product. It is also recommended for those skin maintenance. Supplementation will also lead to improved joint health. It is highly recommended that adults begin including collagen in their diet as early as possible as collagen production begins to drop yearly from 25 years of age onwards.
Together with MCT, this supplement is perfect for providing an energy boost in people requiring increased energy needs, such as growing children, mothers, athletes and even those recovering from illnesses.
Supplement your intake with a good diet and a healthy lifestyle for faster results.
Suitable for those who are lactose-intolerant.
Suitable for pregnant women in normal dosages.
BENEFITS:
Instant ketone energy
Improves focus and concentration
Stimulates skin elasticity and firmness
Prevents and reduces of fine lines and wrinkles
More supple and hydrated skin
Improves bone density
Improves flexibility and mobility
Increases basal metabolic rate
Alleviates fatigue
Corrects weak or damaged nails
Thickens fine hair
Slows down hair loss

More on our blog:
INGREDIENTS: Virgin Coconut Oil Creamer, Pure Hydrolyzed Fish Collagen, sodium caseinate (protein concentrate), maltosedextrin and food emulsifier

DIRECTIONS FOR USE:
Add 5gm-10gm (1-2 teaspoons) of MCT Collagen Creamer into your everyday drinks, shakes, coffee, food, etc, hot or cold! It's an easy way to kick-start a busy day.
Add also to oats and dips as a healthier alternative, skin-tastic alternative!
* Keep in dry place. Consume powder within 3 months after opening to avoid moisture absorption


LUSCIOUS BODY CREAM
'Luscious' Body Cream with a formulation of Super Vitamin E Tocotrienols and natural beeswax in a virgin coconut oil base is ideal as an all-day body moisturiser. It has anti-bacterial, anti-viral and anti-fungal properties. Its Super Vitamin E protects skin, promotes tissue regeneration, reduces scar marks and stretch marks. Luscious Body Cream is long lasting and perfect for all-day use. It is indispensable in countries with cold climate and low humidity, or for those with very dry skin.
RECOMMENDED FOR:
Those living in countries with cold climate and low humidity. It is also highly recommended for those whose skin are exposed to drying conditions or have very dry skin.

BENEFITS:
Neutralises harmful free radicals
Replenishes antioxidant levels
Reduces and prevents fine lines and wrinkles
Reduces and prevents age spots
Reduces scars
Prevents UVA damage
Long-lasting deep moisturiser for skin
Cools and soothes irritated skin
Maintains supple and youthful skin
Anti-bacterial, anti-fungal and anti-protozoal properties to manage skin infections
Rose Geranium is popular among those looking for skin healing. It effectively heals cuts and wounds, while moisturising at the same time.
Lavender is known to produce a calming effect when applied on skin. This aids in better sleep and relieves stress.
Tea Tree is widely known to heal problem skin. Use this to aid stubborn skin conditions such as eczema and psoriasis. Relieve itching with the help of tea tree without drying out the surface of the skin.

INGREDIENTS: Caprylic/capric triglyceride, Absolute No Heat Virgin Coconut Oil, Tocotrienols/tocopherol complex, natural beeswax, geranium / lavender / tea tree essential oil.
100% natural, safe, non-toxic, chemical-free, non-GMO and bio-degradable.

Suitable for all skin types.
More on our blog: Tocotrienols - The Vitamin E That Packs a Powerful Punch of Antioxidants
Available in 3 scents - Geranium, Lavender and Tea Tree (problem skin).
Weight: 90gm

DIRECTIONS FOR USE:
Apply onto desired area and gently massage into skin.

STORAGE INSTRUCTIONS:
Keep in a cool and dry place in an upright position. Do not place it under direct heat.
Tocotrienols Natural Vitamin E Leaflet (English)

Customer comments
| Author/Date | Rating | Comment |
| --- | --- | --- |