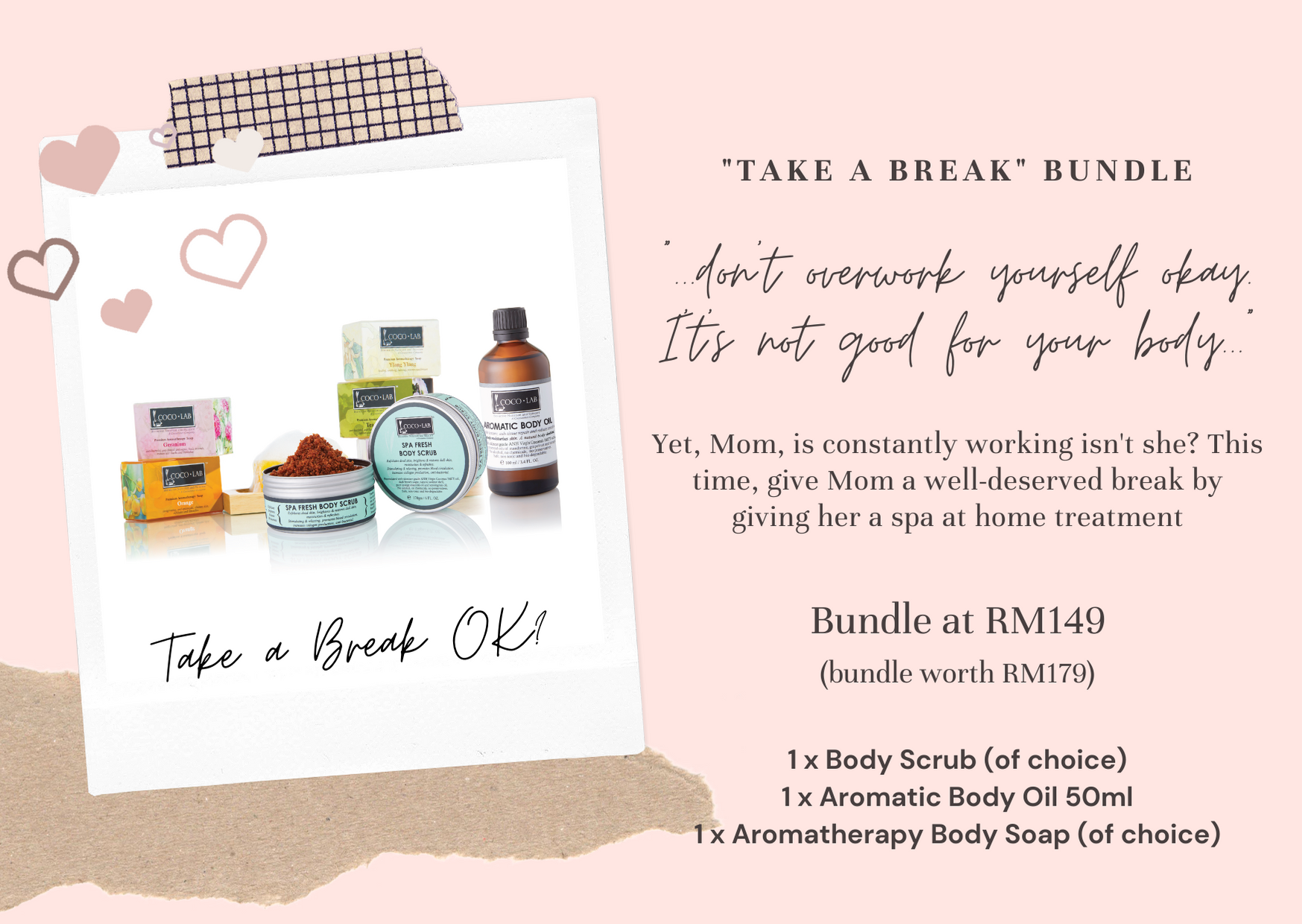 Time for Mom to take a well-deserved break from raising us up. Give her a spa experience in her very own home with these skincare delights.

1 x Body Scrub (choose Spa Fresh / Venderfields)
1 x Aromatic Body Oil 50ml
1 x Aromatherapy Body Soap (please indicate scent at remarks section of checkout page)
Please state Body Soap scents you would like to have in the remark section at the checkout page. If no remarks are made, Body Soap scents will be given at random.
(Choose from: Geranium, Lavender, Orange, Tea Tree, Ylang Ylang, Bamboo Charcoal, Shea Butter, Carrot)
Out of Stock: Geranium
Bundle price: RM149
Normal price: RM177
(save RM23)
*inclusive of 10% SST
BODY SCRUB
Regular exfoliation of dead skin from your body will keep your skin looking vibrant, restoring glow and brightening dull skin.
COCOLAB's Spa Fresh Body Scrub and Venderfields Body Scrub are luxurious scrubs that use walnut shell and brown sugar as exfoliating granules to gently slough off dead skin. Restore uneven skin complexion and reduce skin blemishes with our Body Scrubs, with natural botanical extracts. Formulated with skincare grade ANH-VCO, these luxurious body scrubs have anti-bacterial and anti-fungal properties to kill bacteria and protect your body. They moisturise while removing dead skin cells.
A 100% natural and gentle body scrub that is safe on all skin types including children's skin. Comes in a relaxing blend of essential oils for a perfect spa finish.
RECOMMENDED FOR:
Perfect for those looking to revive a healthy glow to their skin. Suitable for all ages.


BENEFITS:
This synergistic formulation cleans, protects as it moisturises.
Gently exfoliates skin
Reduces blemishes
Restores uneven skin complexion
Anti-fungal & anti-bacterial
Effectively moisturises
Promotes better sleep & relaxes body
Noticeable skin brightening effects
INGREDIENTS: Caprylic/capric triglyceride, Absolute No Heat Virgin Coconut Oil, lavandula oil/ lemongrass + orange oil, muscovado dark brown sugar, juglans regia (walnut shell).
Weight: 170gm
Available in 2 scents: Venderfields Body Scrub / Spa Fresh Body Scrub
DIRECTIONS FOR USE:
Use during shower. Apply a small amount on wet skin and massage upwards in circular motion. Massage until sugar has completely dissolved. Rinse off. Use 2 to 3 times a week.
Use before or after body soap (using after will leave a moisturising velvety finish to your skin)
STORAGE INSTRUCTIONS:
Keep in a cool and dry place in an upright position. Do not place it under direct heat.
AROMATIC BODY OIL
Say hello to smooth and supple skin!

A favourite in COCOLAB, our Aromatic Body Oil is light on the skin but strong in the moisturising department. The Aromatic Body Oil prevents excessive water loss in skin, a major cause of skin dryness and dullness. It is formulated to be absorbed quickly into the skin but not lose any moisturising efficacy, promoting a natural healthy glow on skin.
Use it as a leave-on massage oil or simply as a body moisturiser to prevent dry flaky skin. Its anti-bacterial, anti-virus and anti-protozoal properties give it a protective edge over normal body oils. Aids in tissue repair and reduces stretch marks. The Aromatic Body Oil is a natural body deodoriser without the danger of synthetic fragrances. This light formulation penetrates deep into the skin layers and is absorbed quickly.
Considering smooth and velvety skin? Try applying the Aromatic Body Oil on damp skin and leave it on. Your skin stays moisturised for longer and prevents any excess water loss.

RECOMMENDED FOR:
Anybody who wants healthy looking skin. Suitable for babies because it is natural safe and non toxic. Suitable for adults and elderly folks whose skin needs extra moisturising.
To subdue mild rashes, apply when necessary.

BENEFITS:
Effectively moisturises skin

Protects skin from fungus and bacterial growth

Relieves mild rashes

Relieves eczema & psoriasis skin flares

Promotes smooth & supple skin

Reduces stretch marks

Prevents excessive water loss from skin

Natural body deodorant

Easy to apply leave-on massage oil

Fast-absorbing light-weight formulation

Suitable under make-up

Does not clog pores



INGREDIENTS: Contains ANH-VCO/MCT Oil and our signature invigorating blend of pure essential oils of mandarine, grapefruit and tarragon.
Bottle comes in 100mL

DIRECTIONS FOR USE:
Apply onto skin and gently massage it into skin. Suitable for day or night use.

STORAGE INSTRUCTIONS:
Keep in a cool and dry place in an upright position. Do not place it under direct heat.
AROMATHERAPY BODY SOAP
COCOLAB's premium all-natural hand made soaps are totally safe, non-toxic and biodegradable, making it suitable for all skin types. It is made using a blend of high grade virgin coconut oil and pure essential oils. These long lasting soaps whip up a creamy luxurious lather and works to keep skin clean without stripping it of its natural moisture.
Virgin Coconut Oil protects, moisturizes and heals the skin. With its strong anti‐viral, anti‐fungal and anti‐bacterial properties, this super ingredients keeps bacteria, germs and viruses at bay whilst leaving skin well-nourished. COCOLAB's Aromatherapy Body Soaps are SLS‐free and contains no synthetic colour, fragrance, preservative, animal extract and alcohol.
Suitable for all skin types.

RECOMMENDED FOR:
Those looking for a healthier and nourishing alternative to body care. It is gentle on the skin and does not strip off the skin's natural moisture. Long term use will reduce flaky and dry skin.

INGREDIENTS: Pure Vegetable Glycerine Base, ANH-Virgin Coconut Oil & Pure Plant Essential Oils.
Weight: 130gm

DIRECTIONS FOR USE:
Lather well with water and cleanse skin. Rinse off with water.

STORAGE INSTRUCTIONS:
Keep soap dry when not in use. Do not leave it soaking in water.
RECOMMENDED ACCESSORY:
- COCOLAB Wooden Soap Dish
At COCOLAB, we believe in educating our valuable customers. Click on the research articles for more info.


Customer comments
| Author/Date | Rating | Comment |
| --- | --- | --- |