Details
'Super E' Face Cream is formulated with extra strength Super Vitamin E Tocotrienols. This highly effective face formulation is recommended for deep tissue repair and regeneration. Formulated using only natural botany extracts and a signature blend of pure essential oils.
'Super E' Face Cream is quite unlike any other skin care product on the market. It contains Tocotrienols, a potent form of vitamin E that has remarkable and unique anti-aging properties. Tocotrienols are up to 60 times more potent at fighting the cellular damage caused by free radicals than the usual form of vitamin E (tocopherols) - and are also highly skin-specific. When applied to the skin's surface, they are absorbed deep into the skin, with the help of our premium grade Virgin Coconut Oil.
Free radical damage by exposure to sunlight can lead to formation of fine lines and wrinkles. This plays a large role in the aging process. Tocotrineol works to prevent free radical damage caused by UV damage that leads to premature ageing of the skin. It actively neutralises free radicals as well as replenish the skins natural anti-oxidant levels. COCOLAB's Super E Face Cream formulation works to provide deep moisturising effects while actively rejuvenating the skin as it is able to penetrate deeply into the skin layers. This restores the skins natural youthful appearance and tone.
Recommended For
Those with dull and sallow skin or ageing skin with age spots. If you wish to bring back a glowing radiance on your skin, this is for you. Use it also to reduce scarring on skin wherever necessary.
This rich oil-based cream is perfect for those who wish to lock in more moisture in dry conditions or whose skin is constantly exposed to dry weather. It can be used in combination with the TRIENOL Super Vitamin E Face Serum as a night time substitute. Suitable for all skin types.
Benefits
Rejuvenate your skin and protect against the appearance of wrinkles, age spots and fine lines that make your skin look unhealthy and appear aged.
Neutralises harmful free radicals

Replenishes antioxidant levels

Reduces and prevents fine lines and wrinkles

Lightens and prevents age spots

Lightens scars

Prevents UVA damage

Deeply moisturises skin

Boosts skin's collagen production for tauter skin

Maintains supple and youthful skin

Restores skin's natural glow

All-day and long-lasting rich formulation

Cools and soothes irritated skin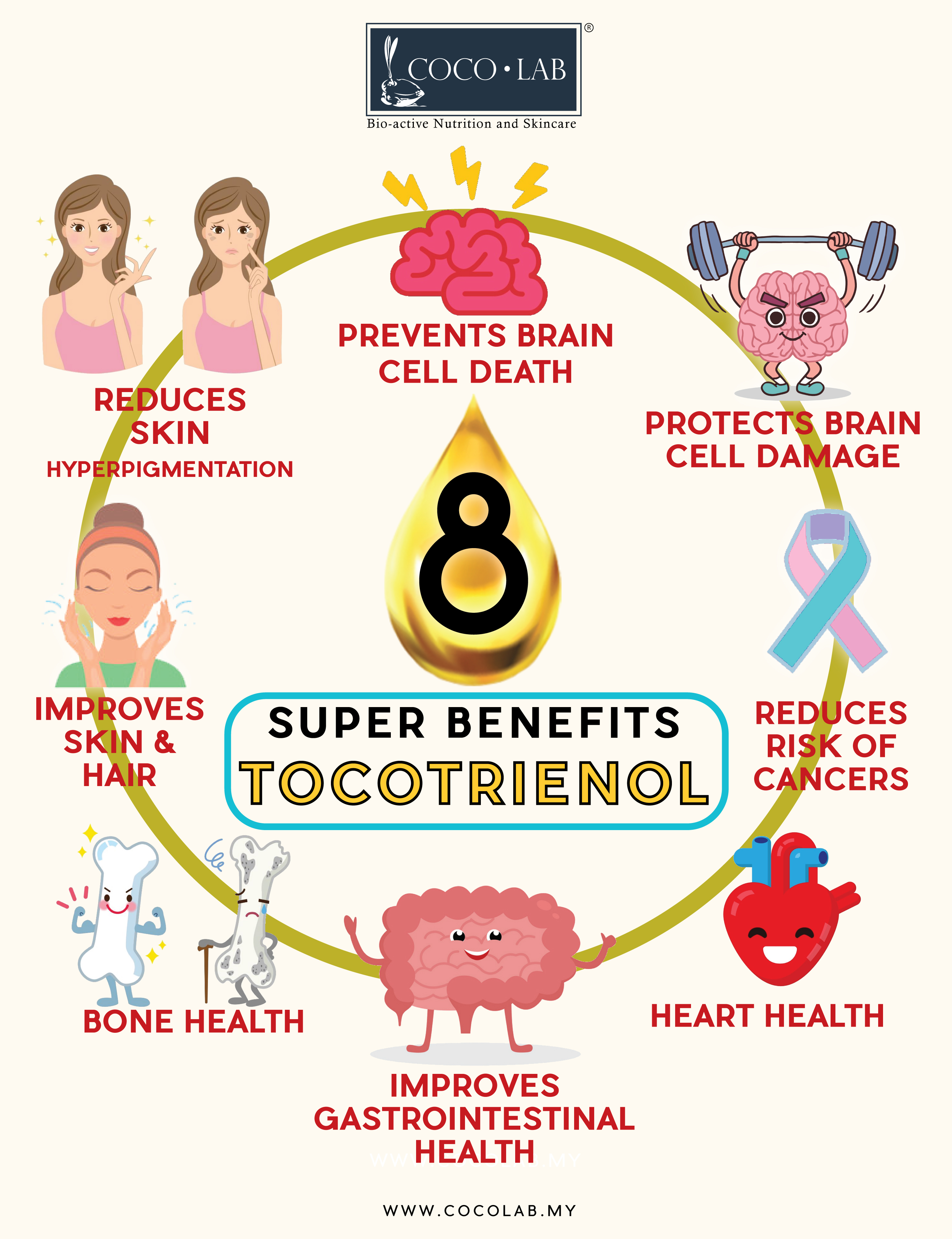 More on our blog: Tocotrienols - The Vitamin E That Packs a Powerful Punch of Antioxidants
Tocotrienols Natural Vitamin E Leaflet (English)
Ingredients
Caprylic/capric triglyceride, Absolute No Heat Virgin Coconut Oil, Tocotrienols/tocopherol complex, natural beeswax, citrus bergamia oil, citrus aurantium oil, mentha spicata oil, eugenia caryophyllata, citrus medica limonum peel oil, citrus sinensis oil.
Why does our ingredient list look different from skincare products you're used to seeing?
Our skincare is all natural and paraben-free. We do not use excess ingredients or fillers to make up for the lack of ingredients. We keep it simple to ensure its efficacy and concentration.
Non-Comedogenic (does not clog pores).

Long lasting and suitable to be worn under make-up

100% natural, non-GMO, non-toxic and bio-degradable
Directions For Use
Apply a small amount and warm it up by rubbing it in between the palm of your hands. Pat onto clean face and neck before applying make-up or before sleeping.
Storage Instructions
Keep in a cool and dry place in an upright position. Do not place it under direct heat.
best anti-ageing anti-aging face cream fine lines wrinkles eye cream age spots dark spots scar sagging skin in malaysia natural ingredients