Details


TRIMMAX BELLY FAT BURNER - BREAKTHROUGH FORMULATION (visible results in 2 weeks*)
TRAVEL-FRIENDLY SACHETS
COCOLAB has developed a first-in-the-market formulation which combines the benefits of medium chain triglycerides (MCT) and provitamin A carotenoids that have been scientifically proven as an effective, natural and safe supplement against obesity.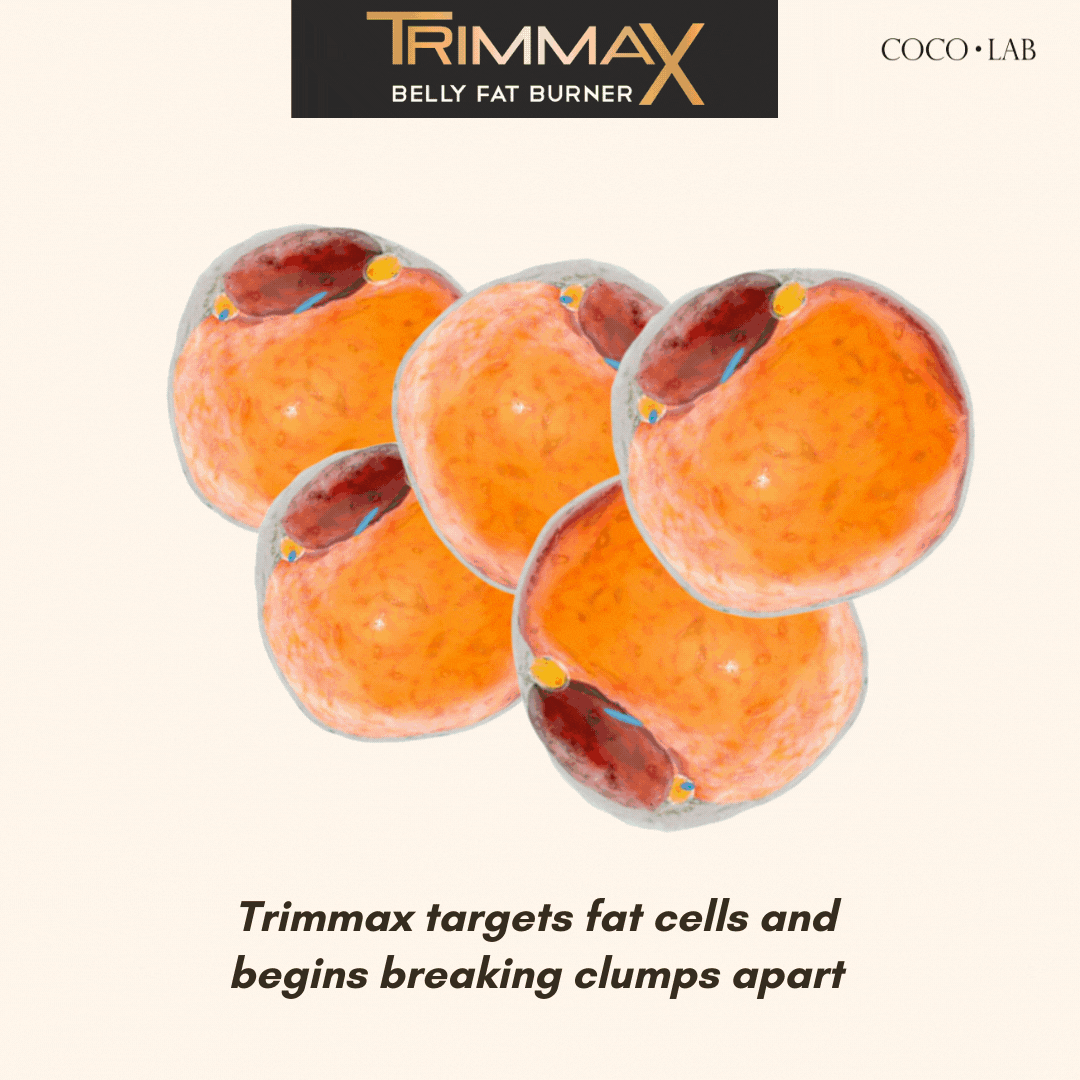 The Trimmax Belly Fat Burner formulation targets belly fat, which is stubborn fat that accumulates around the girth. It is a natural mixed-carotene complex concentrate that is predominantly a complex of alpha-carotene, beta-carotene, gamma-carotene and lycopene. This scientifically tested and formulated mixture has the highest ratio of alpha-carotene in the market. Using only the purest and highest grade ingredients, COCOLAB's MCT Oil, is packed with Caprylic (C8), Capric (C10) and Lauric (C12) triglycerides. Besides aiding weight loss, MCT is also known to improve gut health, improve brain health and provide energy. This formulation is readily and easily absorbed by the body to serve its benefits.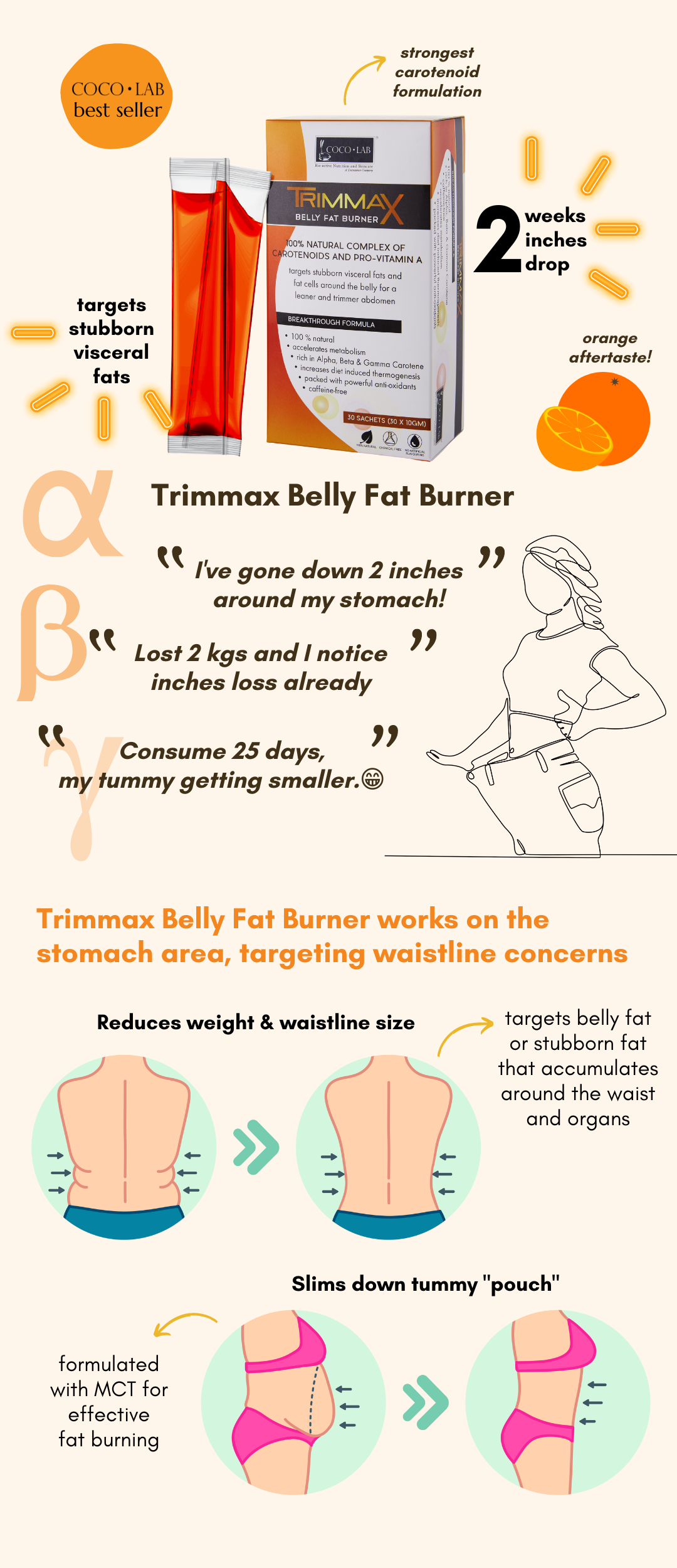 A healthy system cannot be achieved without first addressing the metabolic health of an individual. Supplementation with Trimmax Belly Fat Burner helps in the modulation of metabolic-inflammatory processes. Daily supplementation with this formulation will eventually address the problem of obesity among children and adults as well as regulate metabolic health, thereby reducing risks of chronic lifestyle diseases.


*period of results may vary between individuals
Recommended For
Research has shown that supplementation with COCOLAB's Trimmax Belly Fat Burner has a positive impact on obese children and adults supplemented with a healthy source of carotenoids. Individuals with concerns over waistline issues will find the Trimmax Belly Fat Burner especially useful as this formulation, when consumed, preferentially accumulates in the tummy region, targeting existing fat cells. It actively inhibits the growth of existing fat cells and more importantly, reduces the formation of new fat cells.
Additionally, the Trimmax Belly Fat Burner also targets excess visceral fats (commonly associated as stubborn fats) accumulated around the internal organs such as the liver, pancreas and intestines, inhibiting its growth in number and size. High amounts of visceral fat has been associated with a list of health problems including diabetes.
Choose the Liquid Sachet form for a higher level of convenience. Easily carry required number of sachets according to your traveling and lifestyle needs.
Read more here:
How Do Anti-Obesity Carotenoids Get Rid of Belly Fat?
The Science Behind the Formulation (TRIMMAX by COCOLAB).pdf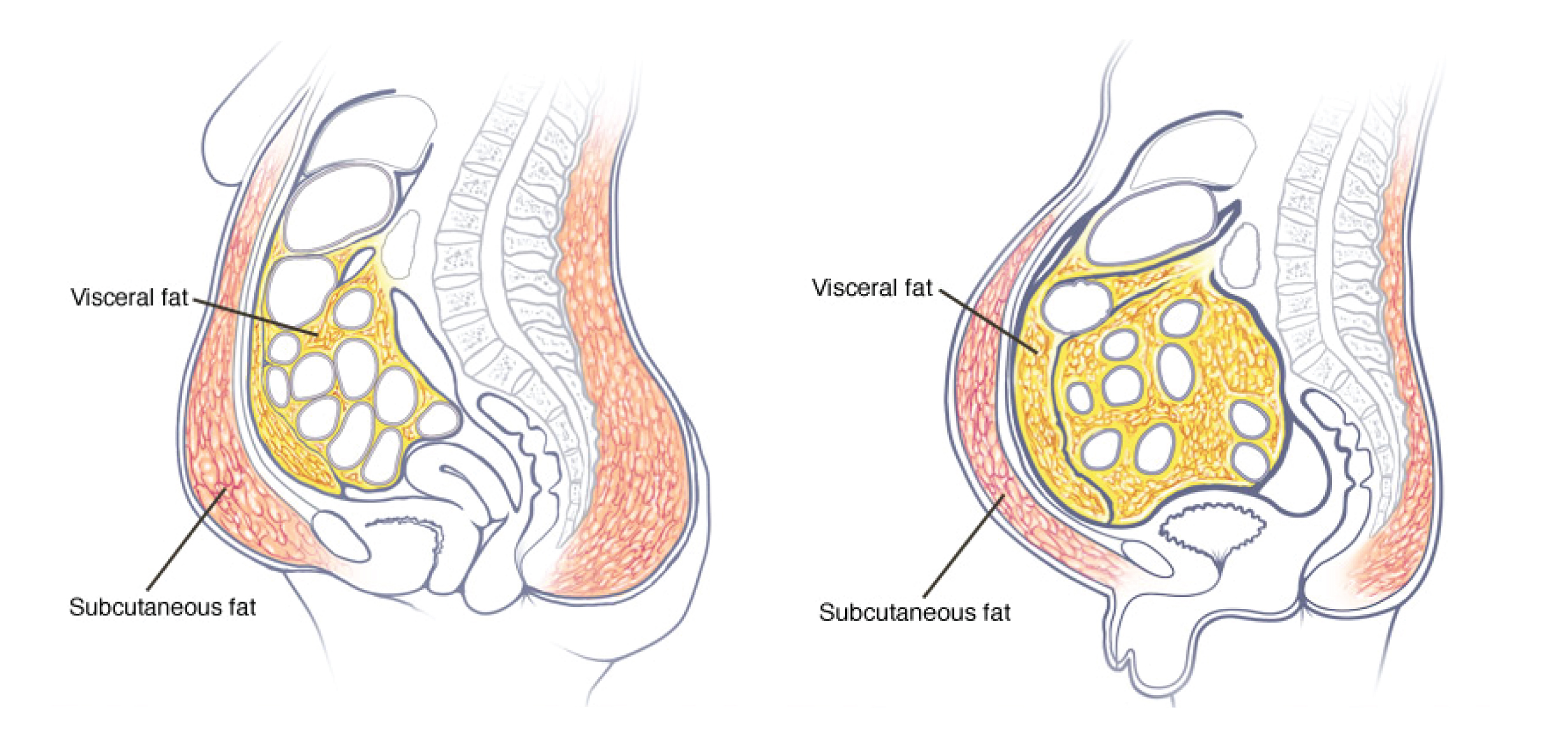 Benefits
Targets belly, subcutaneous & visceral fats

Burns stubborn fat cells

Fights against obesity

Reduces size and quantity of fat cells

Increase metabolic rate

Boosts energy levels

Rich in antioxidants

Promotes better gut health

Has a satiating effect (keeps you feeling full for longer)

Reduces health risks associated with obesity

Caffeine-free




Ingredients
MCT Oil (C8, C10, C12) and Carotene Complex*
* EVtene ®

Certified HALAL ingredients by JAKIM

Dosage Instructions
The recommended dosage is 1 sachet (10ml) daily in the morning. Take after meals.

*each sachet contains 10ml of Trimmax Belly Fat Burner Liquid.
*in some cases, you may pass motion. This is perfectly normal as your body begins to acclimatize to your new diet. You may opt to reduce dosage after your meals.
*if you're just starting out on Trimmax, we recommend taking half the recommended dosage for the first 3 days to allow the body to acclimatize to the product. Slowly build up to full dosage after.
c
FAQ
[Q] Will I need to change my diet in order to take Trimmax?
[A] While a diet change is not necessary for Trimmax to work, we still do encourage a healthy diet to support your health as well. Individuals who adopt a low carb diet or a high protein diet with plenty of exercise see results the fastest when using Trimmax.
[Q] How much Trimmax should I take?
[A] The recommended dosage is 10ml or 1 sachet. Do not worry about going over the 1 sachet as this is a rough guide.
[Q] Can I take more than 1 sachet a day?
[A] Yes, if you do not face any stomach sensitivity. For some individuals with stomach sensitivity, the maximum amount they can take without a toilet run is 1 sachet. However, if you have no stomach sensitivity issues and would like to take 2 sachets a day, you can do so as well.
[Q] How do I take Trimmax Oil?
[A] You can consume Trimmax Oil as it is or mix it into salads / foods.
[Q] Can I take Trimmax Oil before a meal?
[A] If you have gotten used to the product over a few days and would like to try it before a meal, we would suggest to try in smaller dosages first on an empty stomach. If there is no stomach sensitivity, you have adjusted well to Trimmax Oil and can take it before a meal. However, some individuals may still find that Trimmax is too strong to be taken before a meal or an empty stomach. In this case, Trimmax should be taken after a meal.
[Q] What does Trimmax Oil taste like?
[A] Trimmax Oil has a slight orange aftertaste.
[Q] I am on a diet. Can Trimmax Oil be my meal replacement?
[A] Trimmax Oil does have a satiating feeling and causes you to feel full. In some individuals, this acts as a "meal replacement" and can suffice them until the next eating window. If you are able to take Trimmax Oil before a meal without any stomach upsets, but feel that you are still hungry, you can still consume other healthy foods after taking Trimmax Oil.
[Q] After taking Trimmax Oil, my body feels warm and heaty. Is this normal?
[A] Yes, this is normal. This warm feeling is not a sign of your body breaking down as widely believed in Traditional Chinese Medicine. This is merely a thermogenic reaction as Trimmax contains MCT which increases your body's metabolism rate, causing your body to burn more carbs and fats. If you are feeling overly warm, try reducing your Trimmax Oil intake for the time being.
[Q] After taking Trimmax Oil, I am experiencing some stomach discomfort and having the toilet runs. Is this normal?
[A] Yes, this is completely normal especially if you are new to Trimmax Oil. Trimmax Oil causes faster bowel movements and this may result in a toilet rush. But you can avoid this by cutting your dosage into half for the first 3-4 days and taking it after a meal. This allows your body to adapt to the new intake of Trimmax Oil for the time being. After that, you can increase the dosage to normal and even try taking it before meals for those on a weight loss plan.
[Q] I am skinny, but I do have a belly. Is Trimmax suitable for me?
[A] Trimmax is still suitable if you are "skinny fat". Trimmax works on reducing the stubborn visceral fat layer around your waist area, that is often difficult to reduce even with exercise. This is due to the fact that as you gain weight, more fat will be deposited around the waistline first. Most individuals can reduce their subcutaneous and visceral fat layer easily with exercise. But when it comes to the belly, it is extremely probable that a larger proportion of deep visceral fat cannot be reached simply because there is a lot more of it to burn off. Trimmax in this situation would be extremely suitable.
[Q] Can I take Trimmax Oil and not exercise? Will it still be able to reduce my waistline?
[A] Yes, it will, but do note that it will be at a slower pace compared to individuals who are practising a healthy diet AND doing exercise.
[Q] Can I take Trimmax with MCT C8 Oil?
[A] Yes, you can. This is a popular combo for those under a weight loss plan. We suggest taking MCT C8 Oil before your meal, and Trimmax after. You can continue taking split dosages of MCT C8 throughout the day.
ocolab malaysia trimmax belly fat burner waist reduction best natural supplement weight loss