Details
Instant Keto-Coffee with MCT C8
Double the Keto Power, Robust Coffee Taste! More than just coffee
Bulletproof Ketone Coffee with MCT C8 Creamer by COCOLAB [no added sugar]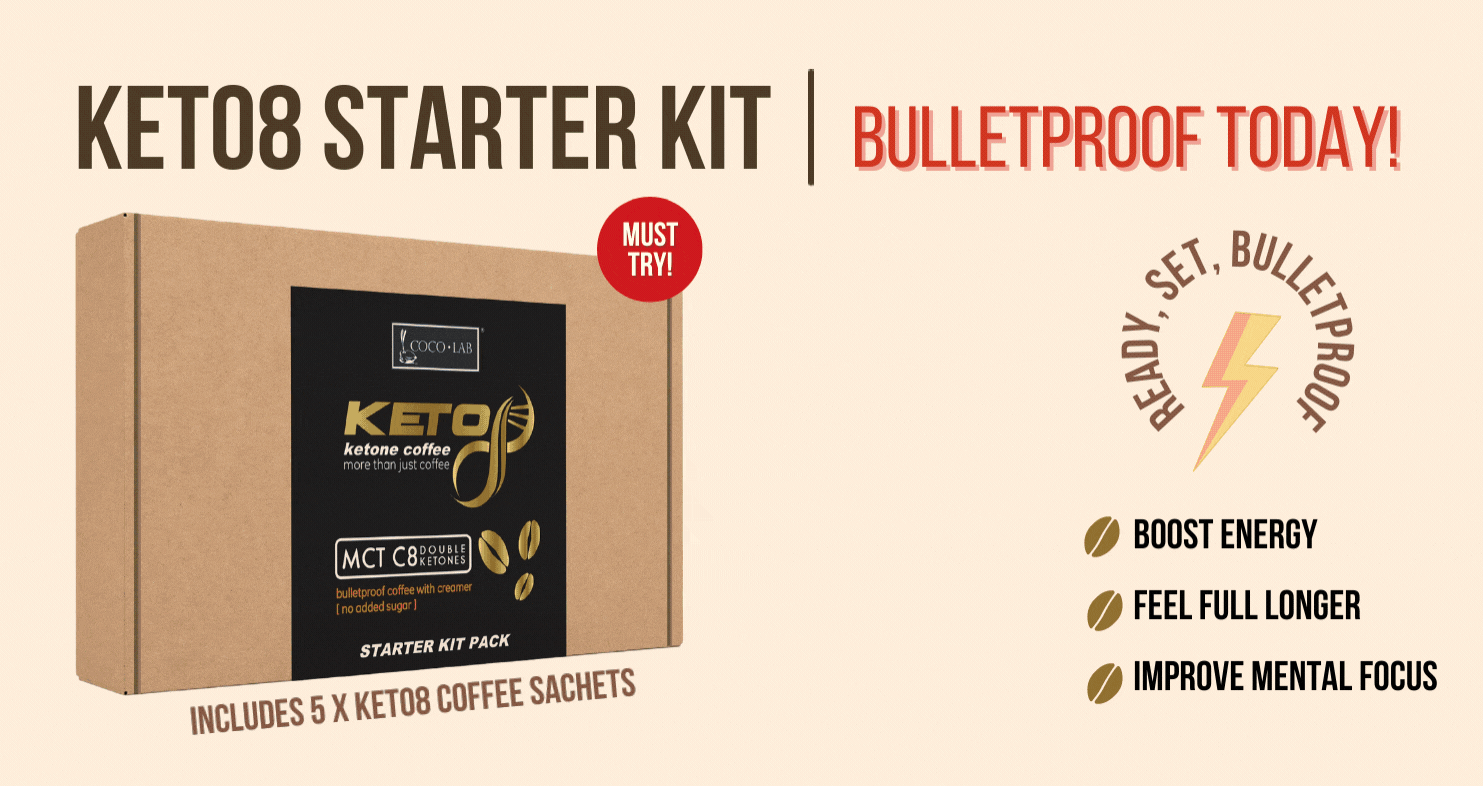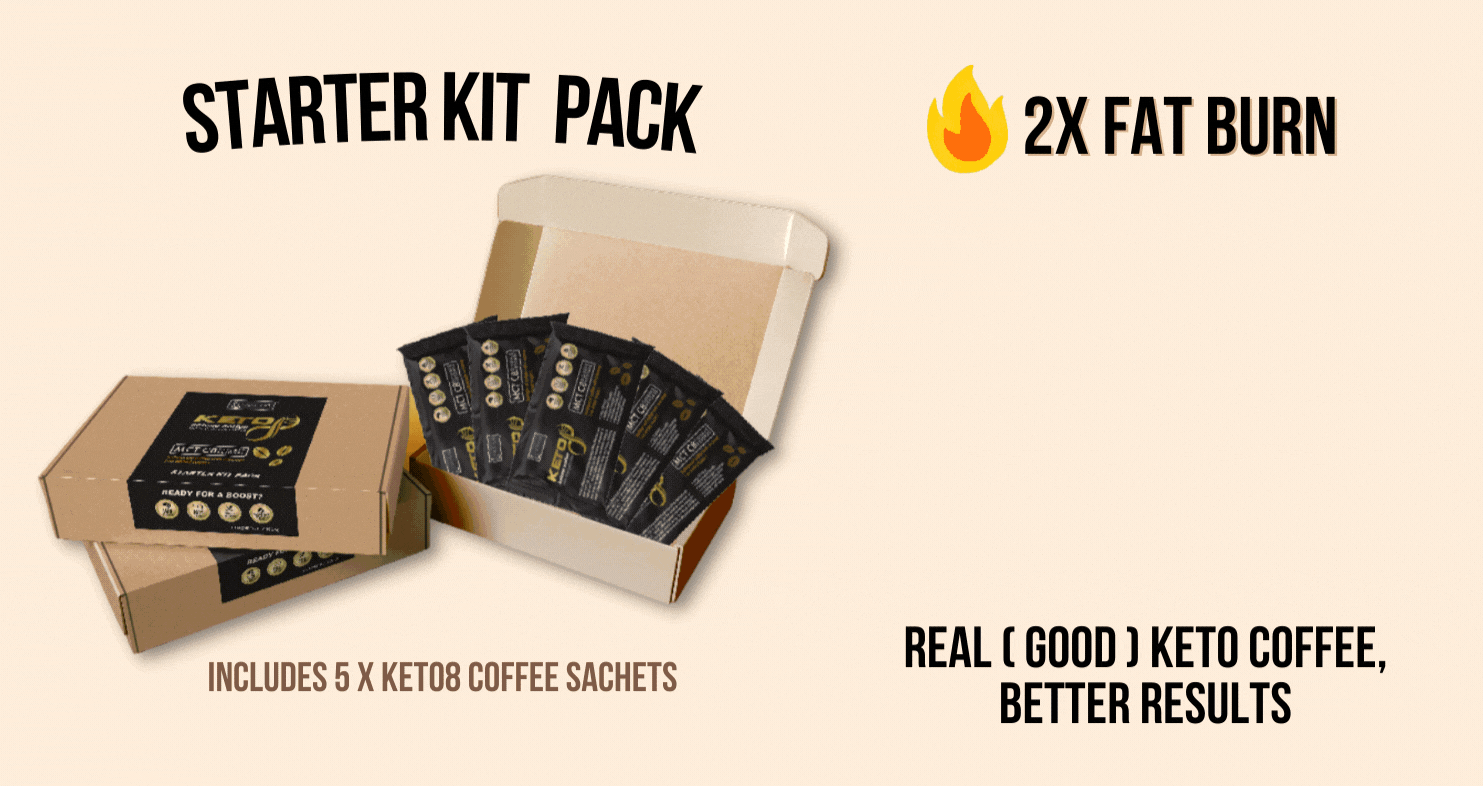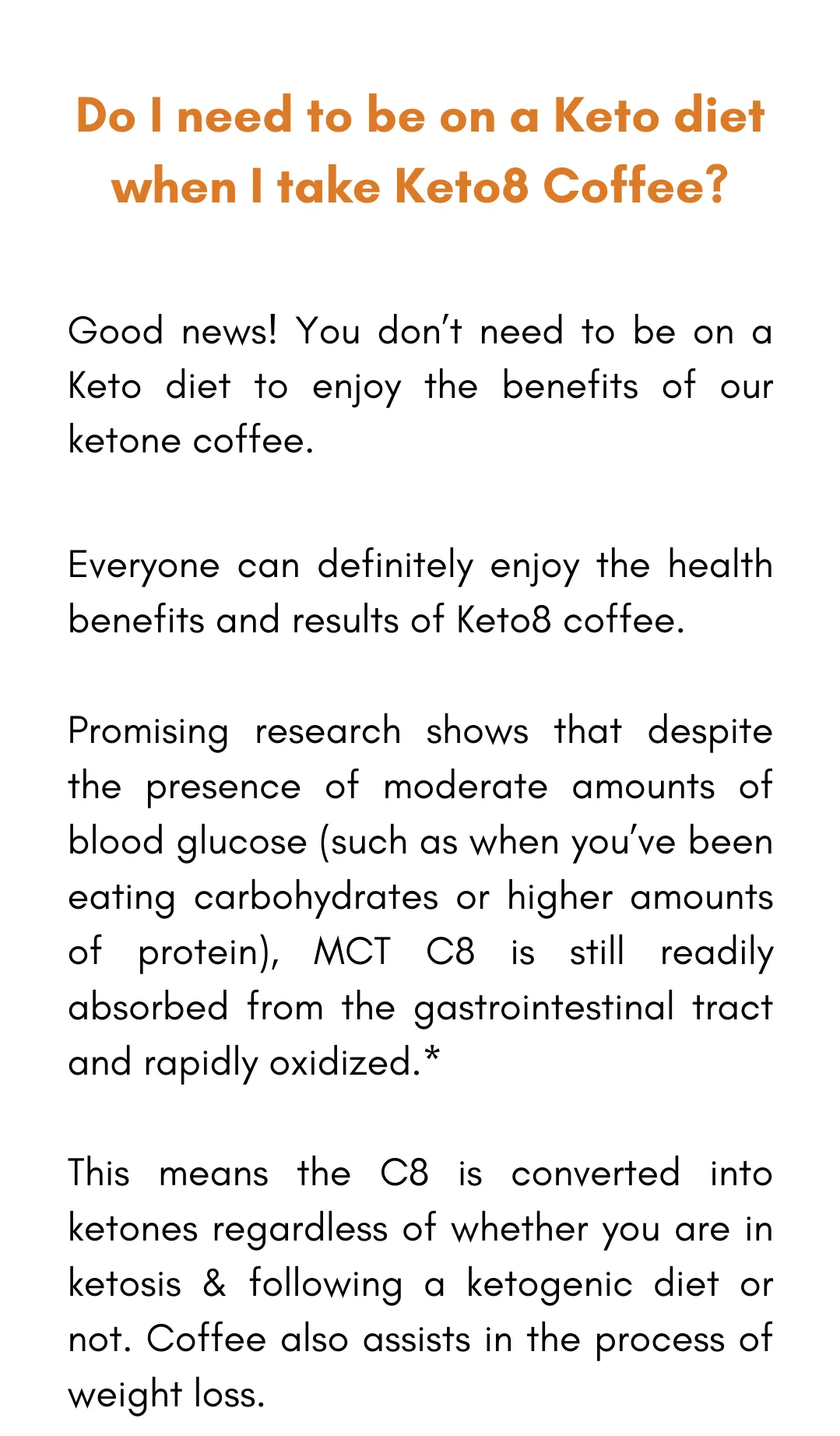 References:

*MCT C8 VS Other MCT
St-Pierre V, Vandenberghe C, Lowry CM, Fortier M, Castellano CA, Wagner R, Cunnane SC. Plasma Ketone and Medium Chain Fatty Acid Response in Humans Consuming Different Medium Chain Triglycerides During a Metabolic Study Day. Front Nutr. 2019 Apr 16;6:46. doi: 10.3389/fnut.2019.00046. PMID: 31058159; PMCID: PMC6481320.
*MCT C8 Gastrointestinal Tract Absorption
SCHWABE AD, BENNETT LR, BOWMAN LP. OCTANOIC ACID ABSORPTION AND OXIDATION IN HUMANS. J Appl Physiol. 1964 Mar;19:335-7. doi: 10.1152/jappl.1964.19.2.335. PMID: 14155309.
Recommended For
Highly recommended for individuals in need of instant energy and mental clarity. COCOLAB's Keto8 Coffee can be taken by students, working executives, mothers and parents. It is also suitable for active individuals in sports or busy individuals at work. Packed in convenient sachets and only needs the addition of hot water wherever you are. Individuals on a ketogenic diet (keto diet) or IF (intermittent fasting) will benefit from adding extra supplementation of Keto8 Coffee.
Keto8 Coffee has no added sugar and is suitable for those watching their sugar levels as well. Suitable for vegan diets.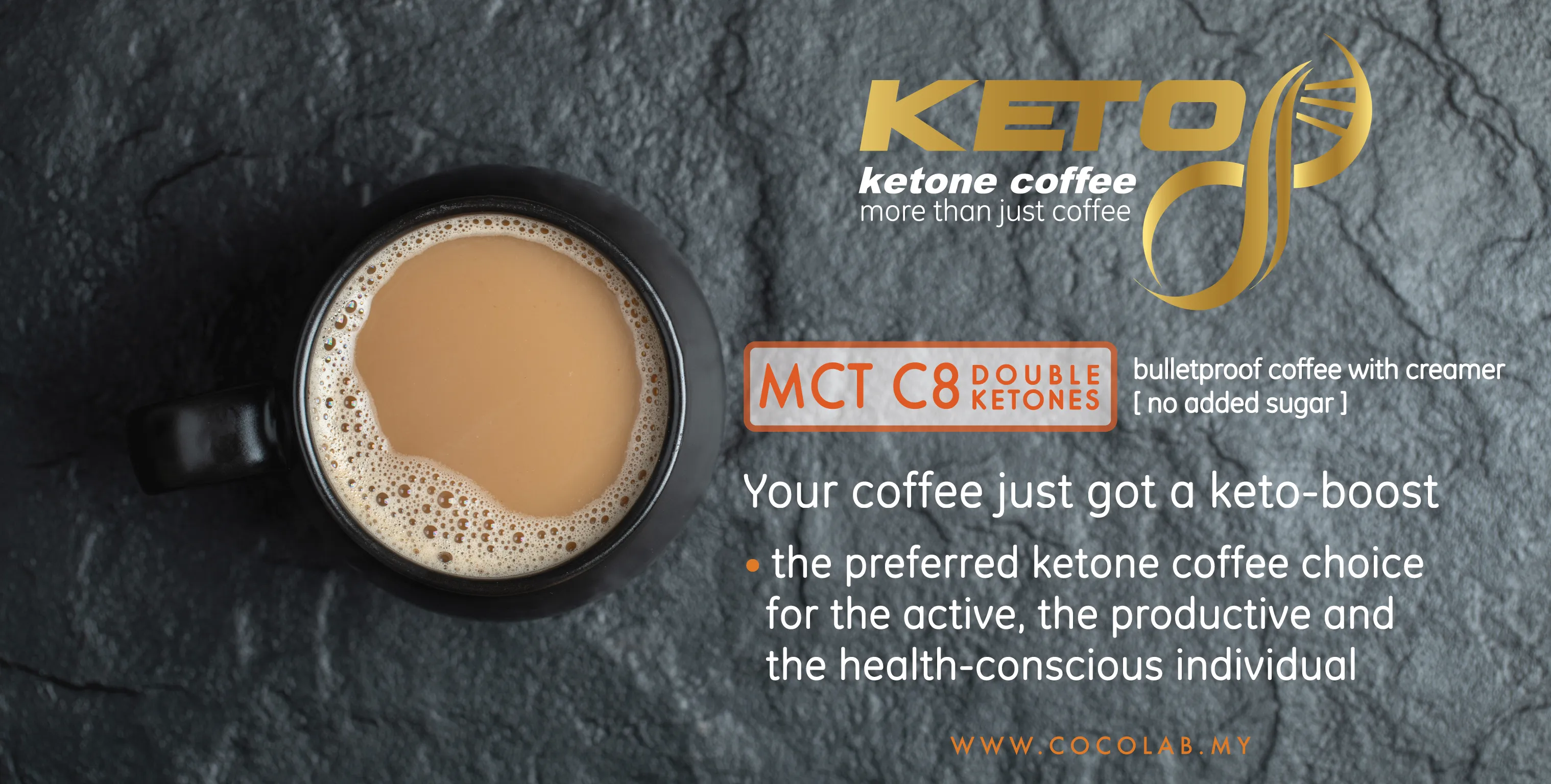 Benefits
Only 100kcal

Better heart health

Boosts healthy cholesterol levels

Reduces hunger cravings

Keeps you feeling full for longer

Anti-bacterial, anti-viral & anti-fungal properties

Alleviates fatigue

Improves focus and concentration

Increases metabolism

Accelerates weight loss process

Brain fuel for mental alertness

Travel-friendly sachets, perfect for quick packing for travelling or working

More on our COCOLAB blog:
Ingredients
Non-dairy creamer (coconut/palm kernel oil, MCT C8 Caprylic Triglycerides, sodium caseinate, maltose, emulsifier, stabilizer, anti-caking agent), Arabica & Robusta coffee bean extract
contains milk protein

*each sachet contains 20gm of Keto8 Coffee
*Starter Kit contains 5 x 20gm Keto8 Coffee
*Value Set 1 bag contains 15 x 20gm Keto8 Coffee
Instructions
Take Keto8 Coffee as you would with your normal coffee, at any time you like or at any time you really need it.
Add about 180ml of hot water into 1 sachet of Keto8 Coffee. Stir product well. Take it 30 minutes before your meal if you are on a weight loss diet.
In some cases, Keto8 Coffee may act as a temporary meal replacement (mostly breakfast). Do not be alarmed if you are not feeling hungry till after lunch (this is just MCT C8 keeping you full)
Optional: add milk for a rich latte taste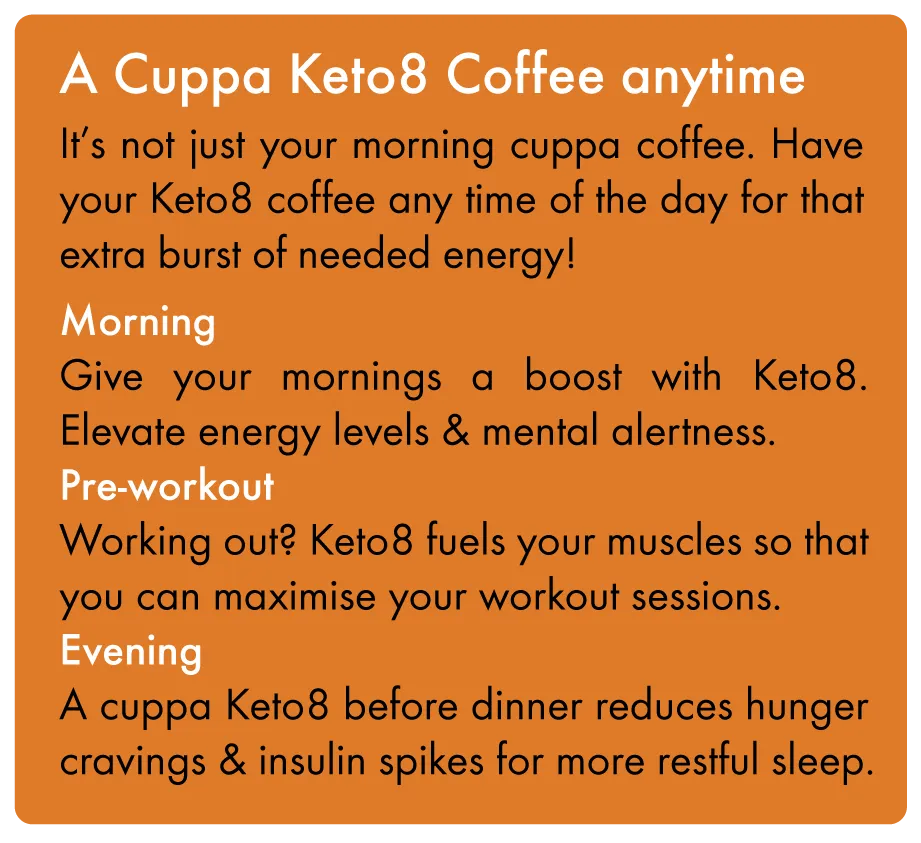 Keto8 Coffee is coffee with a healthy creamer (2 in 1 coffee). Therefore, mixing it with water will give the appearance of a latte or white coffee (not straight black coffee)

*each sachet contains 20gm of Keto8 Coffee


Why Keto?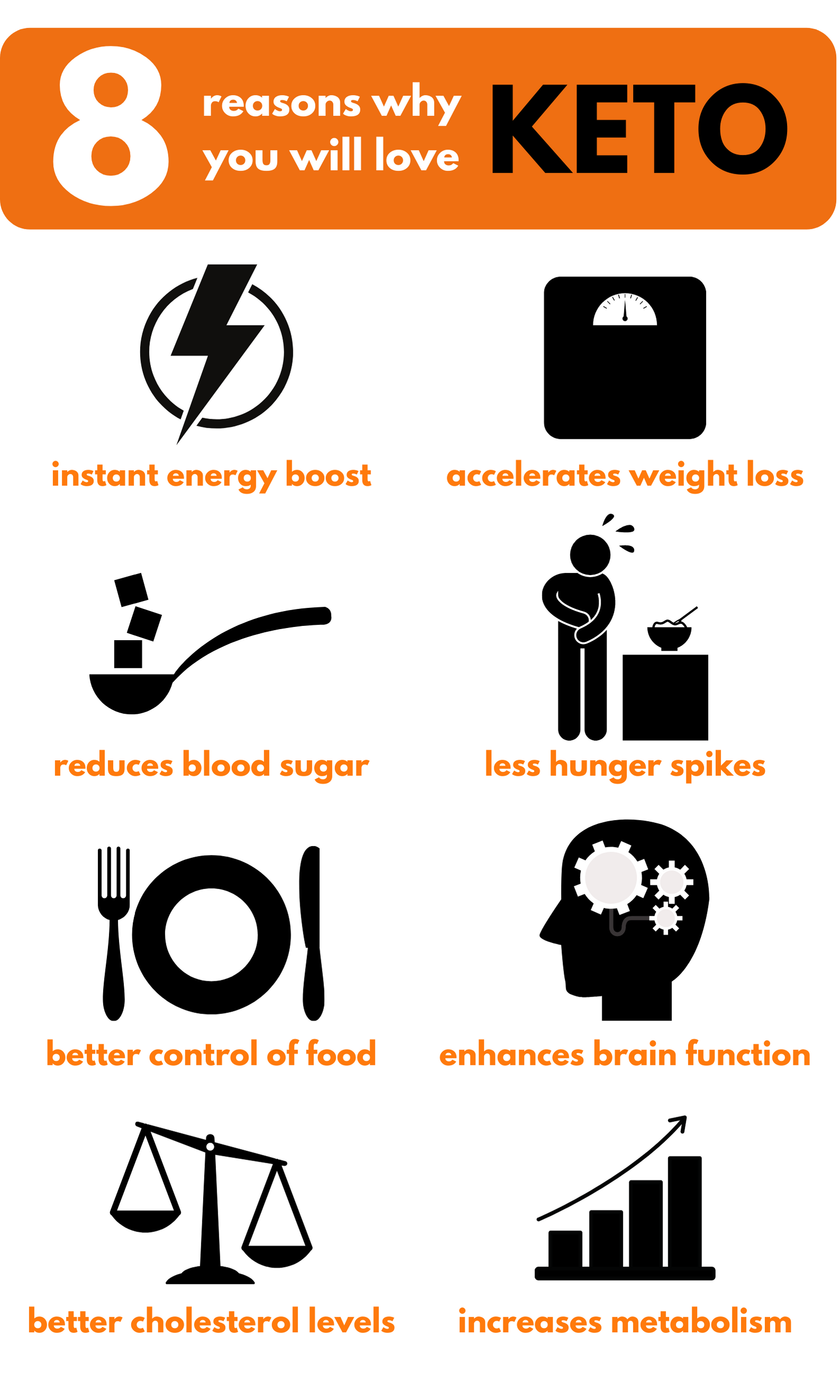 FAQ
[Q] I am not on a keto diet. Can I still take Keto8 Coffee?
[A] Yes, you can. Our MCT range including Keto8 Coffee is suitable for those on keto diet and for those not on a keto diet. You will still enjoy the same health benefits of taking Keto8 Coffee.
[Q] Can I take more than 2 sachets of Keto8 Coffee a day?
[A] Yes, you can. Just like how you would enjoy your normal coffee, treat Keto8 Coffee as such. We highly recommend taking it in the morning, or before a big presentation, or whenever you need a boost of mental alertness and energy. You can enjoy Keto8 Coffee at any time of the day or at any time during/before/after your meal. This will also enhance your ketone levels and maintain them throughout the day.
[Q] Is Keto8 Coffee a black coffee / a 2 in 1 coffee?
[A] Keto8 Coffee is a 2 in 1 coffee, coffee + creamer. The creamer is the MCT C8 ingredient. The creamer is not milk. Therefore, it is not pure black coffee. There is not sugar added as well (unlike 3 in 1 coffees).
[Q] Can I mix Keto8 Coffee with cold water?
[A] Yes, you can. We do recommend stirring it up more with cold water as it does not mix as fast as it usually does with hot water.
[Q] Can I add some sugar to Keto8 Coffee?
[A] Yes, you can. Our Keto8 Coffee is a 2 in 1 coffee without any sugar. If sugar has always been something you have with your coffee, you can still add sugar into it to make it sweeter. But do give it a try without sugar first to see where your preference lies.
[Q] How much caffeine is in 1 sachet of Keto8 Coffee?
[A] 1 sachet (20gm) of Keto8 Coffee contains 10 - 20mg of caffeine, with an average of 15mg.
[Q] I am on a diet. Can Keto8 Coffee be my meal replacement?
[A] Keto8 Coffee does have a satiating feeling and causes you to feel full. In some individuals, this acts as a "meal replacement" and can suffice them until the next eating window. If you feel that you are still hungry, you can still consume other healthy foods after taking Keto8 Coffee.
[Q] Can I take Keto8 Coffee during my fast on IF (intermittent fasting)?
[A] Some individuals find that Keto8 Coffee helps them last longer throughout their fast. Taking Keto8 Coffee in the middle of fasting (typically around the morning) is acceptable if you are practising "Dirty Fast". This allows a small amount of calories, usually a high performance calorie or a healthy saturated fat with ketone production, around the 100-150 calorie mark. Of course this is completely dependent on each individual's body and how fast they're body is able to process it. Read more about IF and "Dirty Fast" here (Your Hack to IF)
[Q] After taking Keto8 Coffee, my body feels warm and heaty. Is this normal?
[A] Yes, this is normal. This warm feeling is not a sign of your body breaking down as widely believed in Traditional Chinese Medicine. This is merely a thermogenic reaction as MCT C8 increases your body's metabolism rate, causing your body to burn more carbs and fats. If you are feeling overly warm, try enjoying your Keto8 Coffee slowly throughout the day and not like a single espresso shot (we know, sometimes we got to rush) if this happens.
[Q] After taking Keto8 Coffee, I am experiencing some bowel movements. Is this normal?
[A] Yes, this is completely normal especially if you are new to Keto8 Coffee. The MCT C8 content causes faster bowel movements and this may result in a toilet rush (but not as strong as MCT C8 Oils). Coffee itself also causes some bowel movements too. But you can avoid this by taking it with a meal. This allows your body to adapt to Keto8 Coffee for the time being. After that, you can increase the dosage to normal.
[Q] Do I take Keto8 Coffee before or after meals?
[A] You can take them either ways. Taking it 15-30 minutes before a meal makes you feel full and therefore you would consume less in your meal. This is the preferred option for those under a weight loss plan. Taking it after a meal, especially after lunch, would increase your ketone levels so that you can avoid an energy slump during the day time and improve productivity.
[Q] I enjoy working out and exercising but sometimes, I feel too tired to gym after a long day at work. Can Keto8 Coffee help with this?
[A] Yes, it can definitely help. Taking Keto8 Coffee before your workout gives you more energy to complete your workouts efficiently. You will waste less effort in a mediocre gym session and turn it into a great workout. You can easily mix Keto8 Coffee with a protein powder of your choice.
[Q] Can I take Keto8 Coffee with another COCOLAB product like MCT C8 product or with Trimmax Belly Fat Burner?
[A] Yes, you can. This is a popular combo for those under a weight loss plan. Just treat Keto8 Coffee as a drink you would have daily. We suggest taking your other MCT C8 products before or during your meal (and Trimmax after if also in your list).
[Q] I've been making my own bulletproof coffee. Is Keto8 Coffee an effective replacement to my previous coffees?
[A] Yes, Keto8 can definitely match up or may be better than your current bulletproof coffee. This is due to the MCT C8 content as well as the coffee. We understand that some prefer a specific type of coffee, but we do recommend giving Keto8 Coffee a shot first before dismissing it. Its convenient sachet makes having coffee easier and faster too.
Instant Keto-Coffee with MCT C8! Double the Keto Power, Robust Coffee Taste! More than just coffee! Bulletproof Ketone Coffee with MCT C8 Creamer [no added sugar]
COCOLAB Keto8 bulletproof coffee with creamer. If you're a fan of our MCTs or coffee, you already know how each can supercharge your mornings. Now, imagine both ingredients working together in unison. That's what you call Keto8 Coffee. Keto8 is a powerful fat-burning coffee, perfect for individuals of any lifestyle. Blended together with our best-selling pure MCT C8, it provides 2x the ketones compared to normal MCT. Ketone energy is small enough to be used readily by your body and your brain. As ketones are an alternative fuel source to glucose, your body does not lose out on this great substitute. And for those looking to shed a few pounds, this energy source does not store as fat. This keeps you lean with clean energy. COCOLAB Keto8 Coffee Double Ketone Levels. COCOLAB Keto8 Coffee - bulletproof double ketonesIf you've been taking bulletproof coffees or coffees with MCT, you may have noticed that we've excluded the usual MCT C10s and C12s. So why MCT C8 specifically? MCT C8 has been scientifically proven again and again to be the main contributor in elevating ketone levels. Scientific studies show that MCT C8 is about 3x more ketogenic than C10 and about 6x more ketogenic than C12 (*). It is the best choice for your ketone coffee. COCOLAB Keto8 Coffee uses premium Arabica and Robusta Coffee BeansAnd coffee lovers? You're in for a healthy boost with Keto8. COCOLAB's Keto8 Coffee is a smooth aromatic blend of premium Arabica and Robusta coffee beans with our ketone-rich MCT C8. This ketone coffee is rich in flavour with just the right hint of acidity, leaving an aromatic aftertaste with each sip. (Trust us, us folks in COCOLAB really love coffee). Best of all, you don't need to be ON a keto-diet to enjoy the benefits of our ketone coffee. Everyone can definitely enjoy the health benefits and results of Keto8 coffee. Promising research shows that despite the presence of moderate amounts of blood glucose (such as when you've been eating carbohydrates or higher amounts of protein), MCT C8 is still readily absorbed from the gastrointestinal tract and rapidly oxidized (*) This means the C8 is converted into ketones regardless of whether you are in ketosis and following a ketogenic diet or not. Coffee also assists in the process of weight loss. Drink up for an energy boost for your body, and better focus for your mind. And because it kickstarts your metabolism, it is the perfect accompaniment to your weight loss regime. With our Keto8 Coffee, you can bet you will feel instantly awake with immense mental clarity, ready to complete any obstacle or challenge set for the day. Satiate your mind, body and sense with a cuppa today! Keto8 Coffee, more than just coffee. COCOLAB Keto8 Bulletproof Coffee - the healthier option!
Best pure bulletproof coffee in Malaysia, Ketone coffee, Keto8 with MCT C8 COCOLAB