MCT C8 Powder Sachet (10s)
Details
[Now in Vegan-Friendly Powder Form!]
100% Pure C8! Now you can Keto-on-the-Go with our travel-friendly sachets!
If you're a fan of powdered solutions, this is for you!
Double your keto levels with our Pure C8 (Caprylic Triglycerides) supplement. Made from pure MCT Oil C8, COCOLAB's MCT C8 Powder is a proven solution to elevating blood plasma ketone levels compared to MCT Oil C8/C10 combo. When taken in isolation, C8 is the main contributor to elevating ketone levels, leading to a more effective weight loss diet.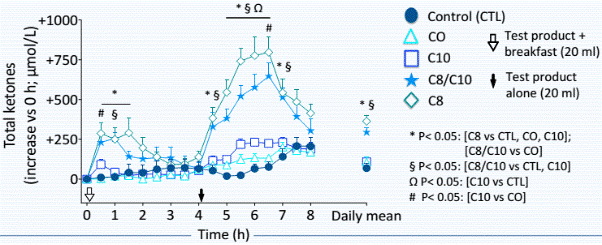 In fact, a recent study in 2019 showed that MCT C8 was about three times more ketogenic than C10 and about six times more ketogenic than C12 under these acute metabolic test conditions, an effect related to the post-dose increase in octanoate in plasma total lipids (*).
This is a healthy saturated fat essential for ketosis and is easily digested & absorbed directly into your liver. When broken down, this will release readily usable ketone energy. Caprylic acid is also a potent anti-fungal and combats fungal infections e.g. Candida and athlete's foot. Mixes well into salads, juices and oats.
Accelerate your ketosis plan with the best MCT, the MCT C8 Powder, today!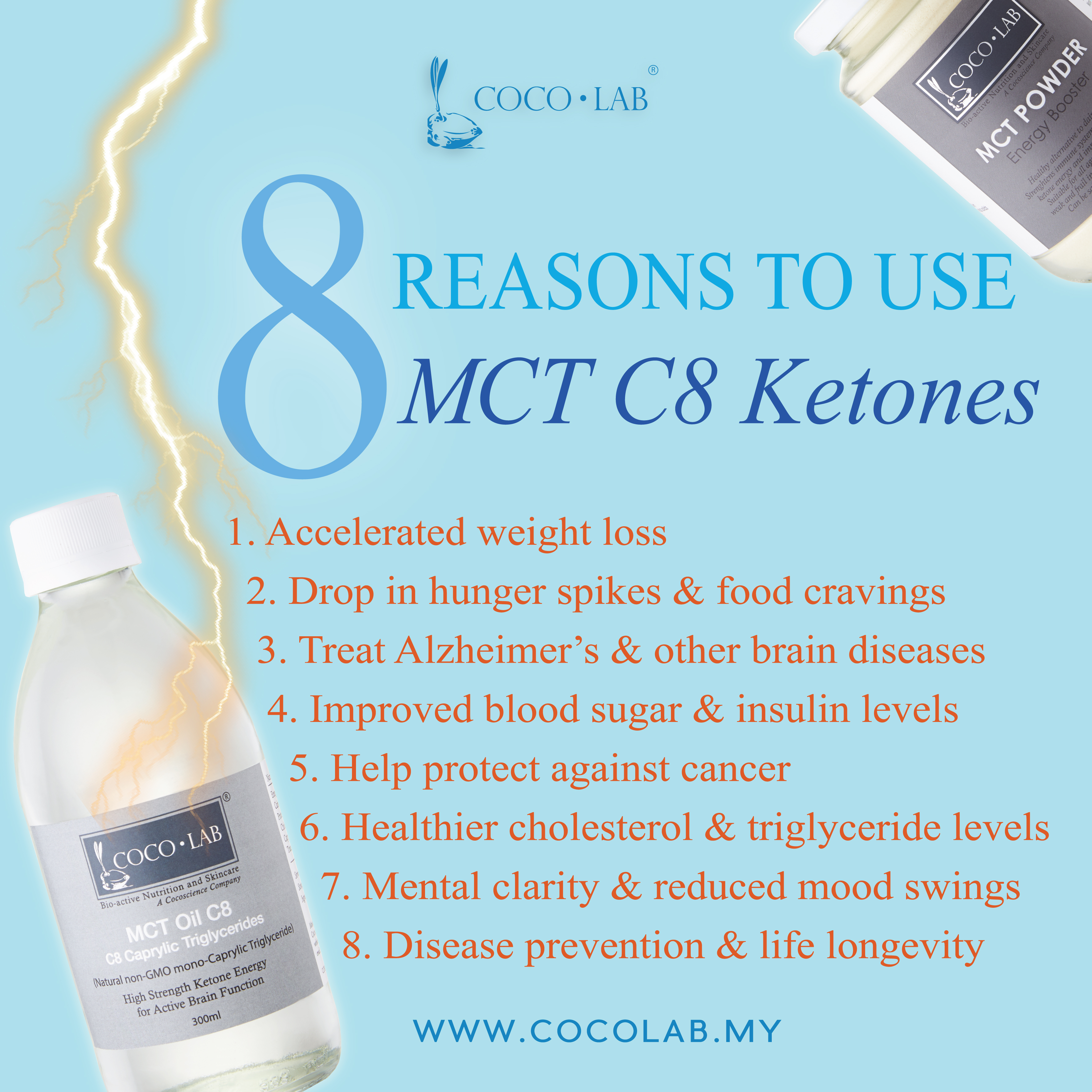 Recommended For
Highly recommended for individuals on ketogenic diet (keto diet). For those who are more sensitive towards taste, this taste-free product mixes well into whatever you put it into without altering the taste of the food. Alternatively it can be consumed on its own. The MCT C8 Powder is packed with up to 6x the ketone energy. It also boosts weight loss. MCT C8 Powder is also a perfect addition to coffees or drinks to supercharge thought processes. Suitable for vegan diets.
Benefits
6x more instant ketone energy

Increased basal metabolic rate

Reduces hunger cravings

Keeps you feeling full for longer

Anti-bacterial, anti-viral & anti-fungal properties

Fights candida yeast infections

Helps treat digestive disorders

Alleviates fatigue

Improves focus and concentration

Brain fuel for mental clarity

Strengthens immune system

Reduces risk for antibiotic resistance

Improves heart health

Boosts healthy cholesterol levels

Travel-friendly sachets, perfect for quick packing for travelling or working

High solubility in water

More on our blog:
Ingredients
Caprylic Triglycerides C8, maltodextrin, modified starch, free flowing agent, emulsifier, stabiliser

Certified HALAL by JAKIM

Dosage Instructions
Add 1-2 sachets of MCT C8 Powder into beverage or meals. Stir product in. Take it 30 minutes before your meal if you are on a weight loss diet.
For better results, take on empty stomach and in split dosages throughout the day (1 sachet x 3).
For those looking for general health maintenance, you may take it anytime (before/after meal). You can also incorporate our MCT C8 Powder in beverages, juices, coffee, oats or cooking recipes according to your preference.
*each packet contains 10 sachets
**each sachet contains 10gm of MCT C8 Powder
Best MCT Powder Oil Malaysia

Customer comments
| Author/Date | Rating | Comment |
| --- | --- | --- |